Over 1,000 international unionists to join Philly cleaners in historic march for fair wages and benefits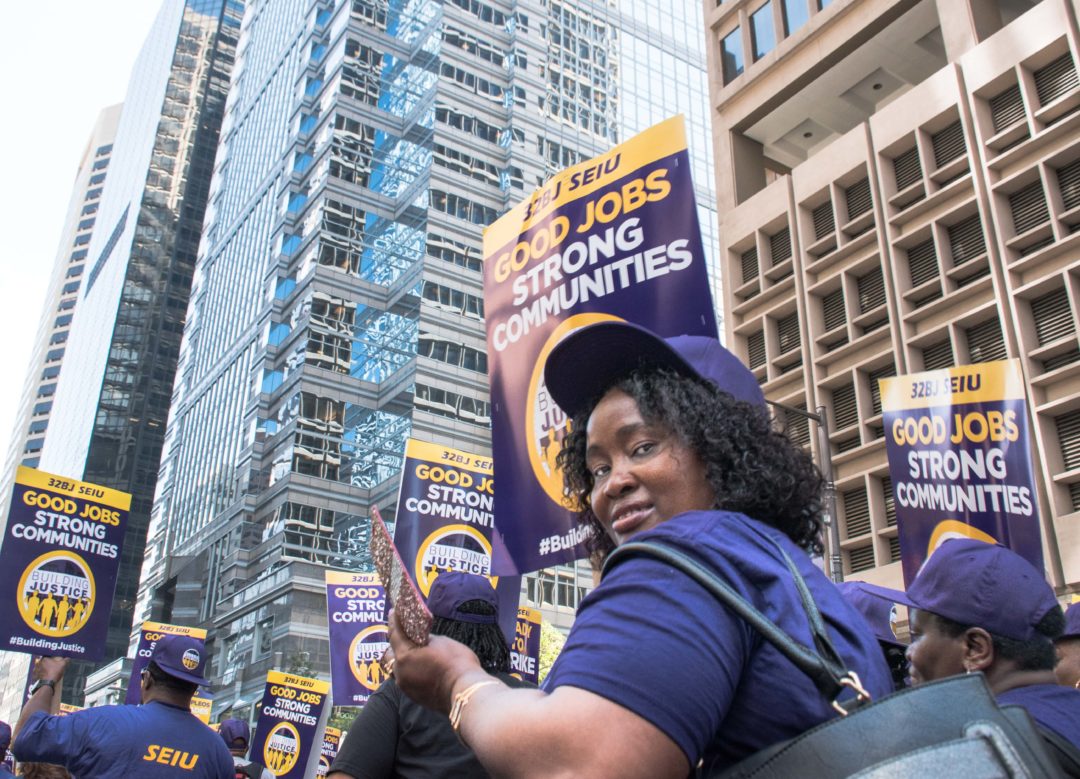 In a monumental show of international solidarity, over a thousand trade unionists from 109 countries, participating in UNI Global Union's World Congress, will join nearly a thousand 32BJ SEIU commercial office cleaners, maintenance workers, and mechanics in a march through downtown Philadelphia to demand a fair union contract for local janitors whose agreement expires on 15 October.
This historic march amplifies what is already the year's largest private-sector negotiation in the U.S., as 134,000 SEIU cleaners nationwide push for wage increases to keep up with inflation and to protect life-saving health care benefits.  
 "Unionists from all over the world are proud to support 32BJ in Philadelphia. As they fight for a fair contract, these courageous cleaners are not just fighting for their livelihoods, but for the heart and soul of a country. Their sacrifices during the pandemic must be acknowledged with contracts that uphold dignity, protect families, and rebuild neighborhoods. This pivotal moment in Philadelphia resonates far beyond its streets, setting an example for working people everywhere," said Christy Hoffman, General Secretary of UNI Global Union  
Negotiations between 32BJ SEIU and Building Owners Labor Relations, Inc. (BOLR) began on Tuesday, August 22. The building owners have proposed severe cuts leading to significant pay losses and reductions in benefits for the 2,000 Philly cleaners, sparking global outrage among union communities.  
"How can we revive a city if its backbone—the working people—can't even afford basic necessities?" questioned Audra Traynham, a local cleaner. "The support from international unionists is not just uplifting; it's a testament to the universal struggle for decent work conditions and fair pay. This is a fight that resonates globally."  
A Billion-Dollar Industry Must Address its Inequities 
Real estate giants like Brandywine Realty Trust and Silverstein Properties have thrived even in the pandemic, while janitors struggle with stagnant wages amidst skyrocketing living costs. Union members, whose starting wage is $20.14 an hour, are fighting for higher wages, employer-paid family healthcare, paid time off, retirement benefits, and more. 
"My healthcare is not just a line item in a budget; it's a matter of life and death for my family," said Richard Thorpe, a 32BJ SEIU janitor. "With global union support, we're sending a strong message: We all deserve living wages and good benefits." 
"These commercial contract negotiations will determine how serious we are about rebuilding our cities," said Manny Pastreich, President of 32BJ SEIU. "An investment in 32BJ members who are essential workers is an investment in our local economies. In the same way that you wouldn't rebuild a home without a strong foundation, we need good union jobs with family-sustaining wages and benefits to fuel a strong economy." 
This global solidarity march underscores the vital importance of essential workers, not just in the city of Philadelphia or the United States, but around the world. It serves as a powerful reminder that the fight for workers' rights knows no borders.