Ukrainian care workers' union Be Like Nina receives UNI Global Union's Freedom from Fear Award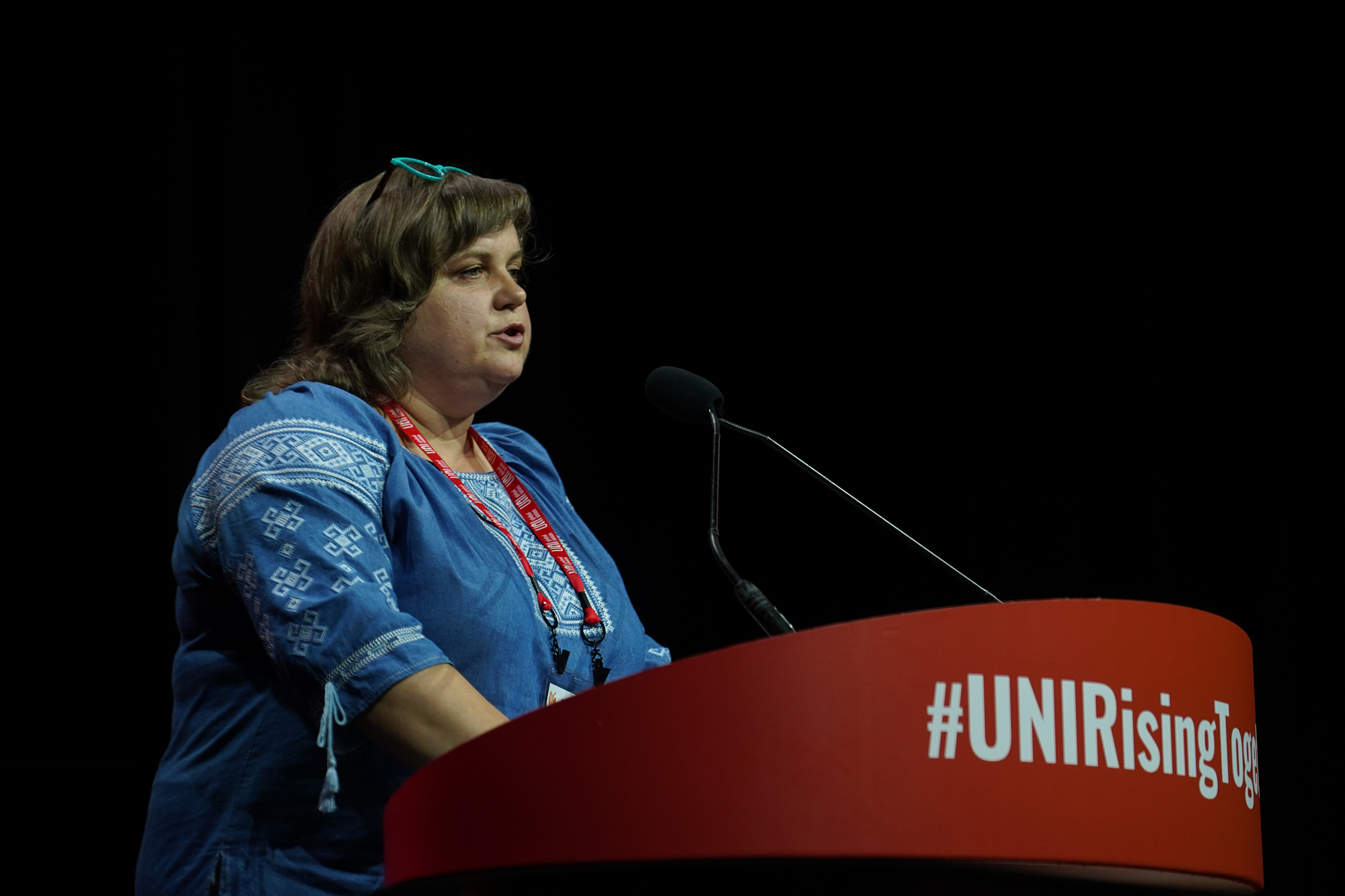 UNI Global Union presented the Freedom from Fear Award to Ukrainian care union Be Like Nina, which has continued to fight for workers' rights in wartime conditions.
Oksana Slobodiana, a care worker and co-founder of the organization, accepted the award at UNI's World Congress in Philadelphia.
Established in 2019 after nurse Nina Kozlovska voiced her concerns about the difficult working conditions in Ukraine on Facebook, Be Like Nina has since grown to include more than 82,000 members. It became a registered Ukrainian social movement organization in 2020 and a trade union in 2021.
Since fighting erupted in Ukraine, workers have not only struggled to provide health care in a warzone. The imposition of martial law, frequent threats to their safety and the establishment of zero-hour-contracts has added burdens on to an already crushing load.
Despite it all, Be Like Nina has remained active to support care workers in increasingly treacherous times. It has helped win the reinstatement of unlawfully dismissed nurses in the Lviv and Poltava regions. It has also recovered unpaid wages in a number of medical institutions. Be Like Nina has stepped up with training and humanitarian assistance such as housing for internally displaced persons, medicines and other necessities for care workers, and psychological support for medical workers who find themselves in crisis, which is all too common.
Be Like Nina's Oksana Slobodiana said, "I accept this award on behalf of all workers in Ukraine. I am encouraged that UNI colleagues from around the world see our daily struggle and support us. Our trade union work is very important now, when we are defending the fundamental rights of workers and human rights. And it will be no less important after the war to restore the rights we have lost and ensure fair working conditions for people. Thank you for being with us in these efforts."
UNI gives Freedom from Fear Awards each year to individuals and organizations that have demonstrated commitment to union organizing and the promotion of workers' rights and a world "free from fear." Previous winners include Amazon workers organizing in Alabama and human rights defender and Bahraini footballer Hakeem al-Araibi, who was wrongfully imprisoned. This year, Colombian trade union leader Luis Fernando, who was threatened, attacked and shot for his union activism, is also receiving the award.
"Be Like Nina's relentless pursuit of worker justice, even when faced with overwhelming challenges, is a testament to the power of solidarity and human resilience," said Christy Hoffman, General Secretary of UNI Global Union. "It is an honour to have Oksana with us to share her story and the story of tens-of-thousands Ukrainian care workers. This award acknowledges the bravery of every nurse, aid, doctor and healthcare worker who, facing violence and oppression, stood up for their patients and stood up for their rights. They inspire us all."
UNI Global Union represents more than 20 million workers from over 150 different countries in the fastest growing service sectors in the world. UNI and our affiliates in all regions are driven by the responsibility to ensure these jobs are decent and workers' rights are protected, including the right to join a union and collective bargaining.