Day Three: let's Rise Together on the final day of the UNI World Congress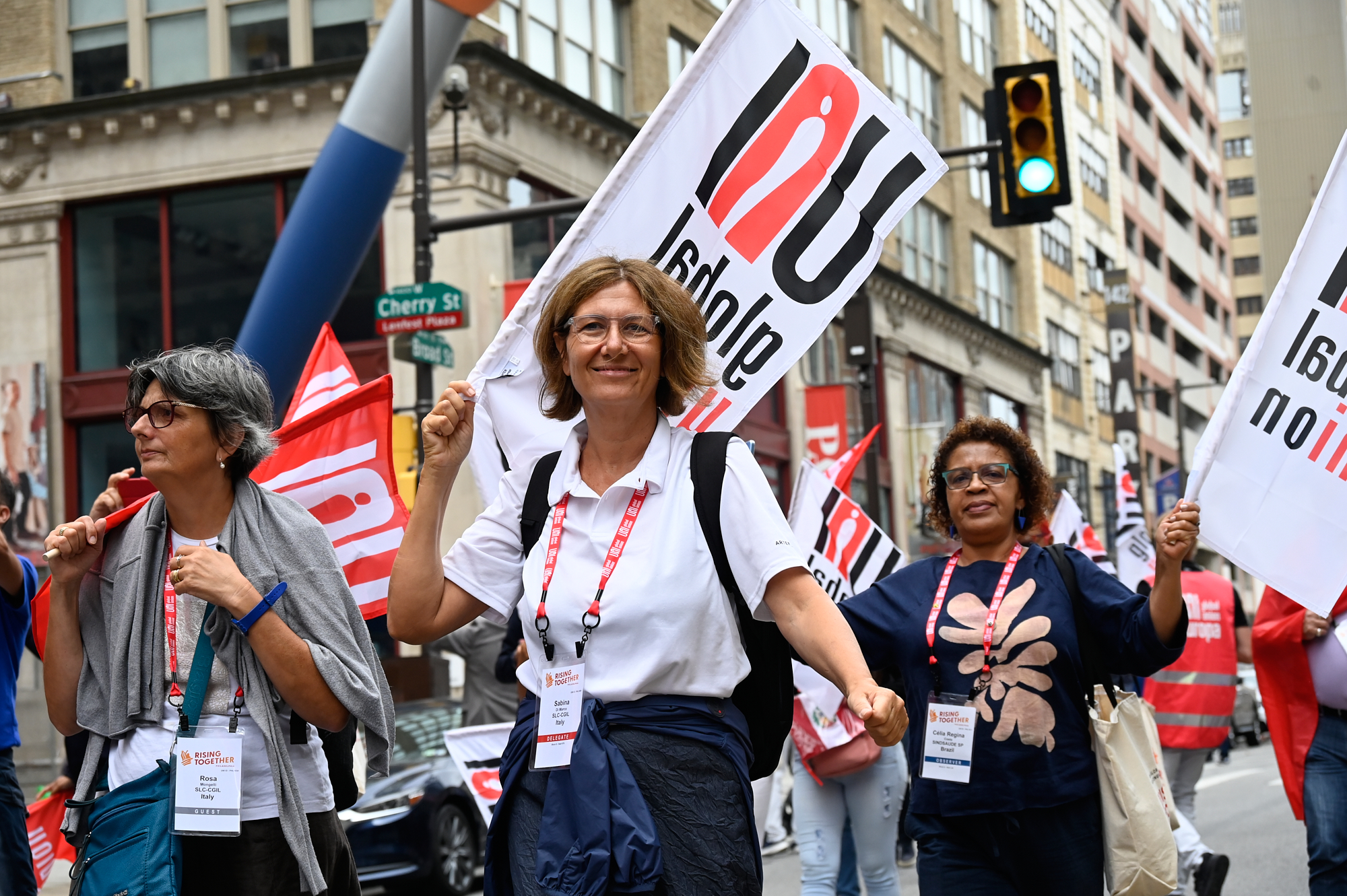 On the final day of the UNI World Congress, let's Rise Together and make it count! We hope to be sending you home full of inspiration, energy and vigour. Let's build union power together!
📚 The programme (times are subject to change)
⏰0900 – 0925
Session on Peace, Democracy and Human Rights begins with keynote speech by Edwin Palma Egea, vice Minister of Labour, Colombia. We will also have a special message from President Lula of Brazil.
⏰1100 – 1130
Session on Changing the Rules to Hold Corporations Accountable begins with panel discussion on workers who are pushing companies to respect workers rights. This will feature:
Mylene Cabalona, President of BIEN, Philippines
Diego Velasco, President, Utratics, Colombia
Ali Ourak, General Secretary UGTT's Federation of Information Technology and Services, Tunisia
Lucía Trenor, Comisiones Obreras, Spain
Samira Gouja, CGT-FAPT, France
Aline Guerard, national secretary, F3C-CFDT, France
Paul Briey, FO-FEC, France
This will be followed by a panel discussion on the successes and challenges of implementing the International Accord. Panelists include:
Atle Høie, General Secretary, IndustriALL
Amin Haque, General Secretary, Bangladeshi National Garment Workers Federation
Scott Nova, Director of the Workers Rights Consortium
⏰1230 – 1400
Break for lunch
⏰1400 -1455
Session on United for a Sustainable World begins with panel discussion on to address the impact of climate change and achieve just transition for workers in all our sectors. This will feature:
Ibrahim Mamadou, SYTS Senegal (UNI Africa Youth)
Anit Singh, National Secretary FB & FSEU – Fiji
Jan Simpson CUPW STTP – Canada
Tony Berggren, International Secretary, GS Facket – Sweden
⏰1510 – 1530
Keynote speech and performance from Elise Bryant, Executive Director of the Labor Heritage Foundation, and President of the Coalition of Labor Union Women
⏰1530 – 1610
Session on Rising Together for Youth including speech by President of UNI Youth Lucimara Malaquias CONTRAF CUT (Brazil).
⏰1610 – 1620
Confirmation of UNI World Executive Board and President.
⏰1620 – 1630
Election and speech from newly elected UNI World President.
⏰1635-1650
Election and acceptance speech of UNI Global Union General Secretary
⏰1700 – 1730 
Closing of the 6th UNI World Congress. We say a massive thank you to Philadelphia and US unions for the incredible work and welcome, and look to Australia.