Finance unions rise together in Philadelphia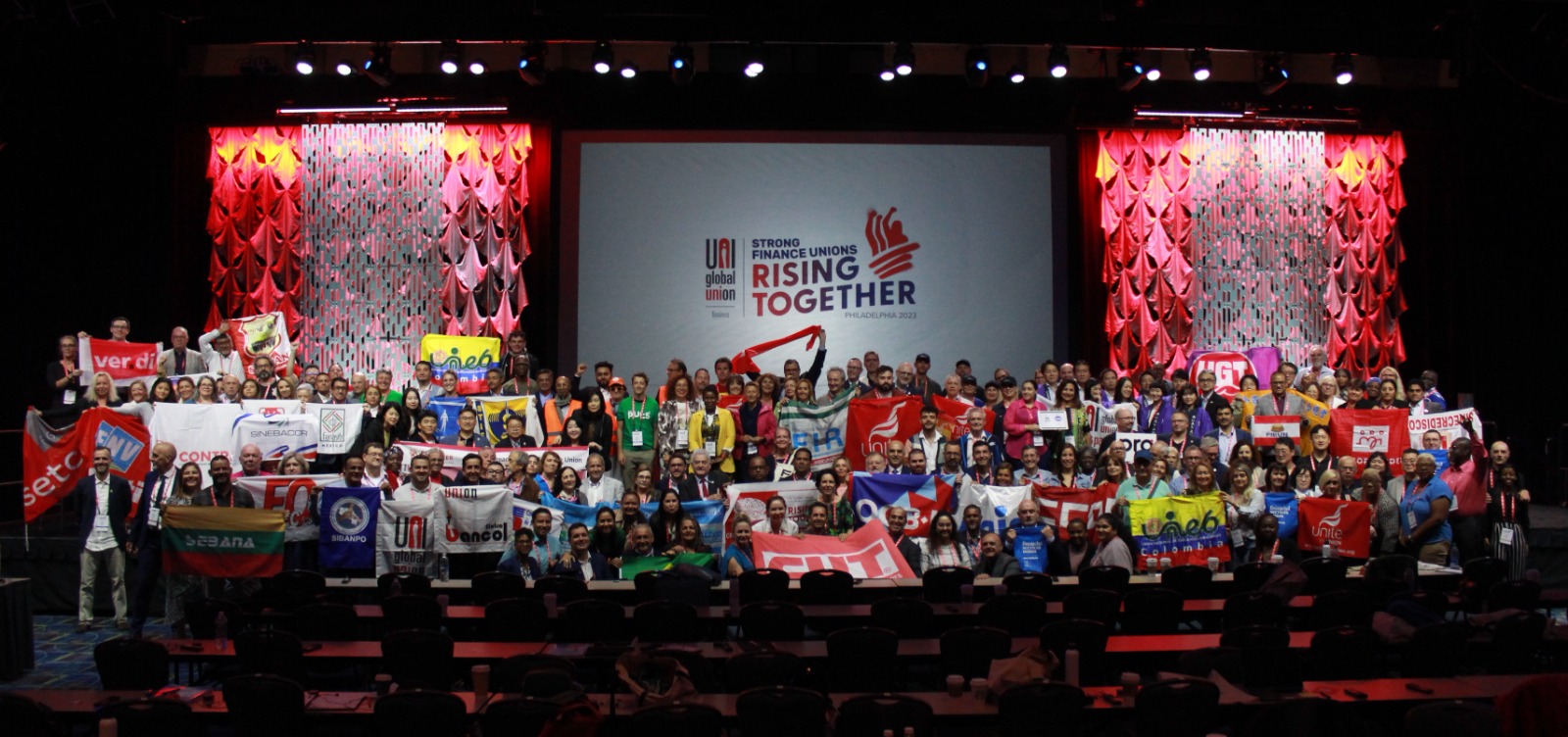 Representatives of finance unions in 65 countries gathered for the UNI Global Union Finance conferences in Philadelphia on 23 and 24 August to elect new leadership and adopted an action plan that tackles the key issues facing bank and insurance workers worldwide.
Trade unions met for the UNI Europa Finance conference on 23 August to be joined by their colleagues across the globe the next day for a packed agenda that focused on collective bargaining, sustainable finance, Just Transition, and the use of technology in the finance sector.
"The agenda of this meeting reflects the new era in which we operate and the need to continue to build union power within finance," said UNI General Secretary Christy Hoffman in her opening remarks. "In all of these areas UNI Finance is on the frontlines. These enormous challenges are always better confronted collectively, rather than alone. And UNI Finance has been working hard to develop global positions on these issues with successes."
The conference heard from experiences of wins and challenges, threats and opportunities of affiliates in all UNI regions under the themes of the conference. 
Union representatives from 🇧🇷Brazil, 🇩🇰 Denmark, 🇳🇬 Nigeria and 🇯🇵 Japan share their different experiences of how technology is transforming the finance sector around the world, particularly through Fintech, AI and remote work.#UNIRisingTogether pic.twitter.com/7xVSvGE6Yd

— UNI Global Union (@uniglobalunion) August 24, 2023
The global finance conference adopted a new action plan under four pillars:
Strong Finance Unions Rising Together – building union power through organizing, collective bargaining and holding multinational companies accountable.
Strong Finance Unions for a Sustainable Economy and a Just Transition – decent jobs and sustainable finance, climate change and justice
The Use of Technology in the Finance Sector – training, healthy working conditions, privacy and data rights
Democracy and Human Rights
🇫🇯"For us, our environment is our greatest asset. #ClimateChange is having a direct impact on our Environment. It affects all of our core industries – Tourism, Agriculture, Fisheries and Forestry," says Anit Singh from the Fiji Bank & Finance Sector Employees Union pic.twitter.com/5k9nos3hH6

— UNI Global Union (@uniglobalunion) August 24, 2023
The Conference awarded honours to Finnish trade union Pro and Swedish union FSU for their invaluable support for funding projects abroad, particularly in Nepal and Peru respectively.
"We are proud to receive this award. We have a new government in Finland that wants to cut money to projects abroad – but we want to show the whole world that trade unions in Finland are committed to helping our trade union colleagues overseas," says @hakala_antti from @Proliitto pic.twitter.com/vYRFg19U0B

— UNI Global Union (@uniglobalunion) August 24, 2023
UNI Finance acknowledges the immense solidarity from 🇸🇪Swedish union @FinansforbundSV for projects to help bank unions overseas. We thank you 🙏

"We hope to continue this work into the future, until it is no longer needed," said President @uboethius #UNIRisingTogether pic.twitter.com/b5KVQ3fw46

— UNI Global Union (@uniglobalunion) August 24, 2023
Anna Maria Romano, from Italian union Fisac Cgil, was elected new President of UNI Finance, succeeding Rita Berlofa from Brazilian union Contraf-CUT who was an inspiring leader who steered the group through the difficult years of the pandemic and restructuring.
On being nominated President, Anna Maria said:
"We must not give up, we cannot afford to waste the opportunity that being UNI gives us, to share experiences, strength, determination, heart and struggle for a finance sector that is capable of creating long-term well-being instead of just short-term profit."
🎉Congratulations to Anna Maria Romano from Italian union @fisac_cgil on being elected UNI Finance President! pic.twitter.com/65UIuXeAZM

— UNI Global Union (@uniglobalunion) August 24, 2023
In summing up the conference Head of UNI Finance, Angelo Di Cristo, said:
"From this Conference, we carry with us the knowledge gained, the connections built, and the ideas exchanged, to set us on our path forward to deliver change for finance workers everywhere."
See all the photos from the conference on Facebook here
#UNIRisingTogether