UNI Global Union Presents Freedom from Fear Award 2023 to Resilient Colombian Union Leader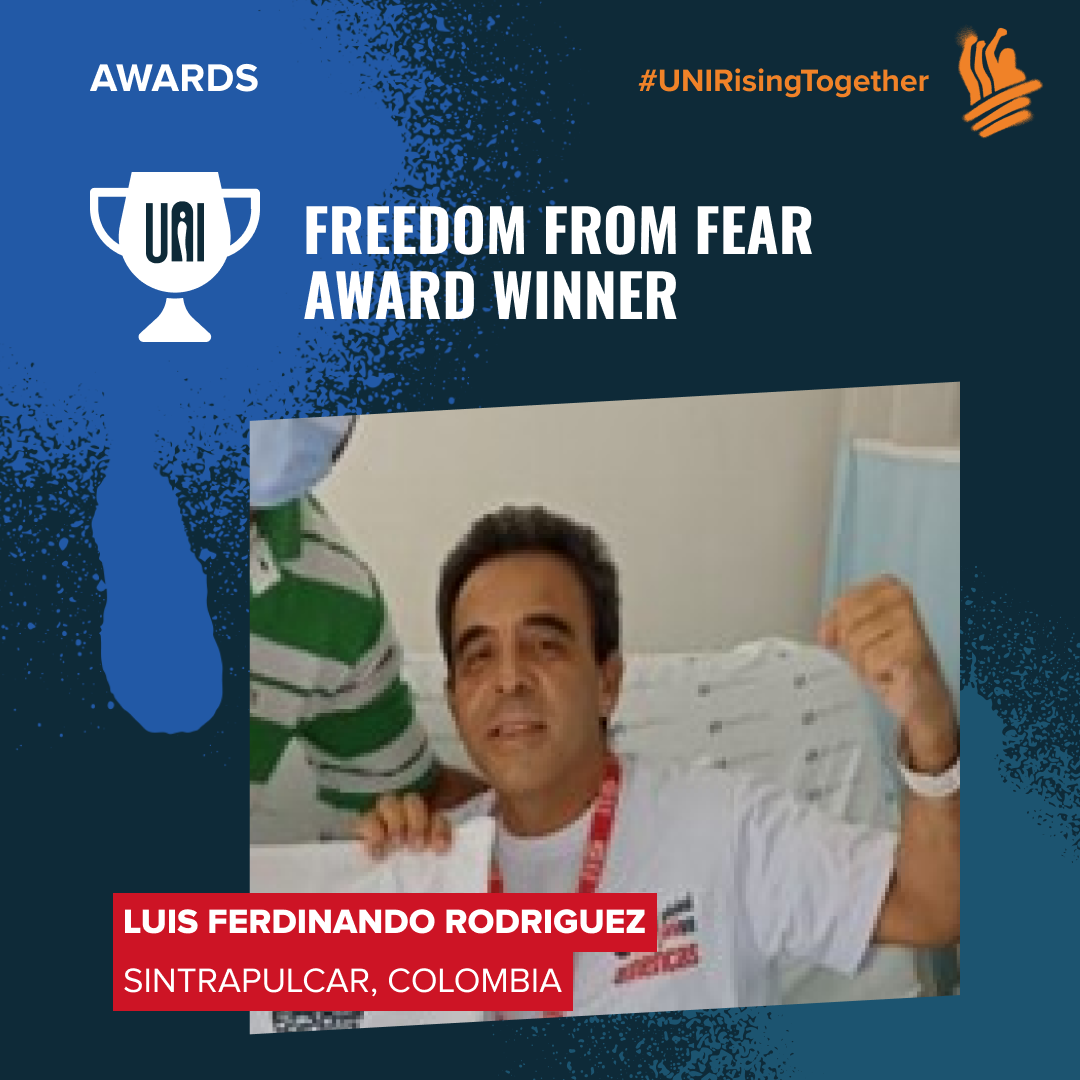 Celebrating Courage and Dedication: Luis Fernando's Inspiring Journey from Harassment to Hope  
At its World Congress, UNI Global Union proudly presented the Freedom from Fear Award 2023 to Luis Fernando Rodriguez, an indomitable leader from SINTRAPULCAR, Colombia. The Freedom from Fear Awards honours individuals who have displayed extraordinary courage in the face of adversity while promoting workers' rights. Be Like Nina, a Ukrainian care worker union, also won the award this year.
Luis Fernando Rodriguez 's journey is a testament to his unwavering commitment to workers' rights. A former worker at Smurfit Kappa and ex-President of the union, Luis faced formidable challenges while standing up for his fellow workers. Despite confronting severe harassment, threats to his life, and even a hired assassination attempt, he remained resolute in his pursuit of justice and equality.
A Fight for Justice and Dignity 
Luis's battle began when Smurfit Kappa, his former employer, orchestrated a baseless case against him to dismiss him from his position, alleging misconduct. Undeterred by the false accusations, Luis turned to the courts, seeking justice for himself and his colleagues.
He faced attempts to sway his resolve by offering him money, followed by an attempt to corrupt his legal representation. Even in the face of these underhanded tactics, Luis remained steadfast, fighting for the truth to prevail. The turning point in Luis's journey came with a shocking and heart-wrenching incident. On his way to a meeting with fellow Smurfit Kappa workers, Luis fell victim to a brutal assassination attempt by hired sicarios. Despite sustaining three gunshot wounds and enduring a long and arduous period of critical illness and multiple surgeries, Luis defied the odds and emerged as a survivor.
"Luis's remarkable recovery speaks volumes about his strength of spirit and his determination to continue advocating for workers' rights," said Christy Hoffman, General Secretary of UNI Global Union. "Today, he stands as a symbol of hope, inspiring others to persevere in the face of adversity. It's an honour to give him the Freedom from Fear Award."
Luis Fernando's journey is far from over. His presence at the UNI Global Congress in Philadelphia, where he will accept his award during the Wednesday morning session on peace, democracy, and human rights, is a poignant reminder of the power of resilience and the indomitable human spirit.
As UNI Global Union celebrates Luis Fernando's courage and dedication, the Freedom from Fear Award 2023 shines a spotlight on his remarkable story. Luis's journey from harassment to hope is a reminder that, even in the face of adversity, individuals can make a profound impact by standing up for what is right and just.