UNI women ready to rise in Philadelphia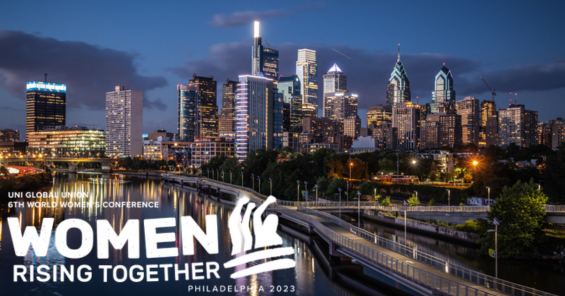 More than 700 women from UNI Global Union affiliates across the world will gather in Philadelphia, U.S.A., on 25 and 26 August for UNI's 6th World Women's Conference.
Meeting under the theme Women Rising Together, participants will unite to set priorities for the next four years, elect a new World Women's president, and to listen, learn and lead the fight to champion women's rights worldwide.
UNI Women World President, Patricia Nyman, from the South African Commercial Catering and Allied Workers Union, said:
"As a woman leader, I know first-hand the power that comes when women rise together. Our collective voices and actions have the ability to transform the world, and I am excited to join women trade unionists from around the globe in Philadelphia."
The conference will address five key topics, including the need to achieve decent work in a sustainable world for women workers in the face of climate change and the technological revolution
Violence and harassment remain a scourge in the world of work, particularly gender-based violence. UNI was an instrumental player in pushing for the adoption of ILO Convention 190 in 2019 to end violence in the world work. Now the focus is on its ratification and implementation, as well as using the text of the convention in collective agreements. The conference will continue the work on how best to support unions to eradicate all forms of violence in the workplace and beyond.
Women rising in unions – UNI has a long-running and successful campaign to achieve 40 per cent representation of women across the breadth of   UNI's structures, leadership, activities and meetings. However, maintaining this percentage is a constant battle. The conference will examine ways of bringing more women into union leadership, and highlight the role of UNI's mentoring programme in this process.
Health and safety is now a fundamental right at the ILO. This section of the conference will address how unions can approach health and safety with a gender perspective – taking women's specific needs into account, particularly around pregnancy and menopause.
Women and youth – the conference will examine how to better engage and recruit more young women into the trade union movement, creating spaces where young women can take part in leadership and decision-making positions, as well as providing supporting environments through training and mentoring to help them in their trade union lives.
UNI's Head of Equal Opportunities, Veronica Fernandez Mendez, said:
"The conference is going to be an incredible opportunity to bring together women trade union leaders from around the world to share our stories, strategies and strengthen the fight for women workers' rights. See you in Philadelphia!"
Find out more about the 6th World Women's Conference here.