#WomenRising: UNI Global Union's World Women Conference Shines Light on Intersectional Fight for Rights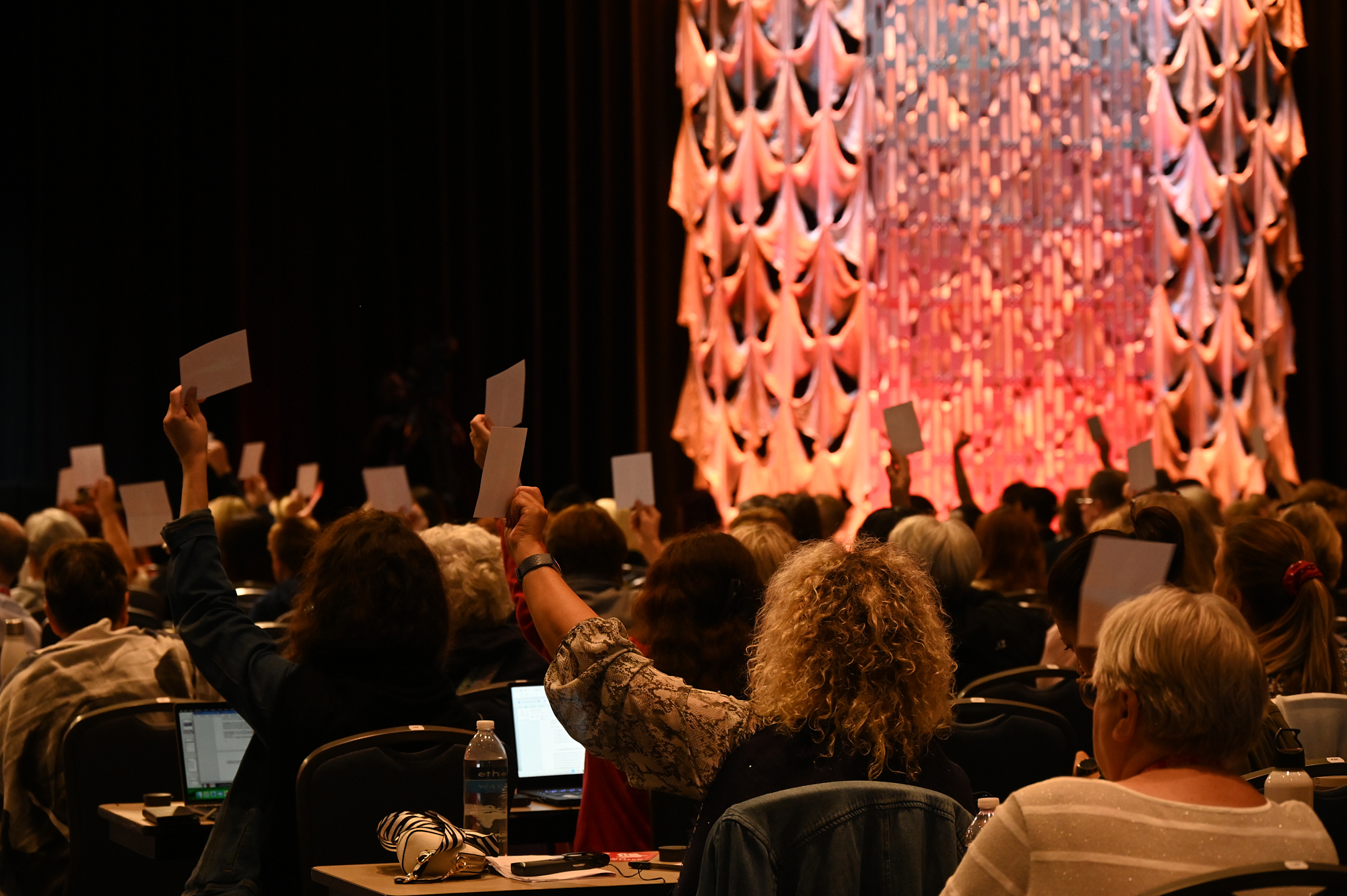 Philadelphia, a city steeped in history, played host to the 6th UNI Global Union's World Women's Conference—a monumental gathering that united leaders from the trade union movement, women's rights advocates and champions of racial justice. The theme was clear: Women are rising together to struggle for workers' rights, women's rights, and civil rights.
Michelle Kessler of UFCW (USA) kicked-off the two-day event by declaring, "The city of brotherly and sisterly affection is a union town." This phrase reverberated through the halls, reminding attendees of Philadelphia's rich history as a hub for the labour movement. The city's legacy, especially its initial fights against slavery, set the stage for a just and equitable future.
Christy Hoffman, General Secretary of UNI Global Union, underscored the interconnectedness of these movements: "The fights for union rights, women's rights and racial justice are inextricably linked. The work of UNI Women is an essential part of that struggle."
Throughout the Conference, a chorus of powerful voices emphasized the importance of gender equality in the workplace. Patricia Nyman, outgoing UNI World Women's President, proclaimed, "Today, here in this union city – also known as the 'Cradle of Liberty' for its history of revolution, independence and rights – I call on all our women workers around the world to RISE UP AND FIGHT! Rise for our rights, freedoms, achievements, the voiceless, equality and women. Viva UNI, viva!"
Milagro Pau from AEBU (Uruguay) urged deeper actions on gender opportunities, stating, "The present is ours; the future is ours; the world needs women." Kudo Erika from JAW (Japan) highlighted the need to bolster women's leadership to address gender imbalances, while Kate Hudson from CWU (UK) drew attention to the exacerbation of inequalities due to the pandemic, which has disproportionately affected women.
Veronica Fernandez Mendez, Head of UNI's Equal Opportunities department, echoed the sentiment of many in the room: "The fight for women's rights has never been easy. Let us draw strength from the collective power we possess, knowing we are not alone."
Crucially, the need for decent work and gender equality emerged as pivotal components of a sustainable future. Julia Fox from SDA (Australia) emphasized that inclusive economic growth and gender equality are vital for sustainability. Cristiane do Nascimento from Sintetel (Brazil) stressed the importance of integrating gender perspectives into union training.
Technology's role in shaping gender dynamics was also discussed. Karin Schoenewolf from ver.di (Germany) underscored the need to understand the gender dimensions of digitalization, advocating for the right to information and countering cyber-harassment.
The speakers spotlighted the urgent need to combat violence against women. Amal El Amri from UMT (Morocco) called for collective action to end workplace violence, while Akane Kanakubo from UA ZENSEN (Japan) highlighted the issue of customer harassment and efforts to combat it.
Successes were celebrated too. Theresa Mortimer from BSFU (Bahamas) lauded the UNI Mentoring Programme, and Chennel Cabrera from BIGWU (Trinidad & Tobago) shared her journey from union member to diploma holder, thanks to mentorship and union support.
Day one of the conference concluded with a resounding message from Khalida Maqsood from Pakistan: "Trade unions are a force where men and women can work together to fight for democracy in Pakistan."
Day two began with a discussion on health and safety and the specific needs of women. Miyoung Choi from FKMTU (South Korea) reflected, "Looking back, I come to one conclusion: We must embrace the mission given to us. Women have strengths that allow us to look after the interests of our members. We must help and love one another, not harm."
In the healthcare sector, 70 per cent of workers are women, yet we often overlook the care of those who provide care. "Paying attention to protect the health of those who care is a basic task," remarked Celia Regina Costa from Sindsaude SP (Brazil).
Helen Yemane from Filcams-CGIL (Italy) asserted, "We must ensure that women are more directly involved in shaping health and safety policies." Jihyun Kong from KMHU (South Korea) asked, "Why should we have to suffer from sexual harassment, workplace bullying, and lack of sleep? We need to rise together to fight these injustices."
The UNI Global Union World Women's Conference also endorsed an urgent solidarity statement  introduced by Juana Olmeda Gómez FSC-CCOO (Spain) to denounce the shameful behaviour of Spanish Football Federation President Luis Rubiales at last week's Women's World Cup final and calls for an immediate end to aggression and the removal of those responsible. On Saturday, soccer's world governing body FIFA provisionally suspended Spanish football federation (RFEF) president Luis Rubiales for 90 days pending an investigation. Rubiales is refusing to resign despite widespread condemnation for his actions in the aftermath of Spain's 1-0 World Cup victory over England.
Discussing the challenges of young women in the workplace, Johanna Jonsdottir from SSF (Iceland) gave a passionate speech about the need to include young women's voices in the labour movement: "We have immense power. Our youth gives us fresh insights and ideas, it gives us new ways of learning and we bring new skills to the table. We can help build a trade union movement that is resilient and capable of adapting to change. But we need you and we need to work together. We need you to invest in us. To mentor us. To support our involvement in decision making structures. To support our issues in collective bargaining and negotiation demands. To protect us against all forms of violence and harassment in the workplace. We need you to help us achieve our full potential."
As the UNI Global Union Women's Conference drew to a close, Carol Scheffer from CWU (Ireland) was elected UNI World Women's President. In her statement she thanked all the women who came before her: "As an Irish woman, I have learned a lot from my predecessors, who fought for our freedom, like Rosie Hackett who set up the Irish Women Workers' Union, and from leaders like former president of Ireland Mary Robinson, who fought against the oppressive church and state regime. In effect Irish women understand struggle but that is an understanding every woman in this hall knows. In all our countries the women who have come before us have laid the foundation upon which we build our solidarity, and it is now for us to carry on their legacy," Scheffer said. "Women united are an unstoppable force."
The resonating voices of these determined women advocates left a mark on the ongoing global struggle for gender equality and workers' rights.
The resolutions adopted by the UNI Global Union Women's Conference can be read here.