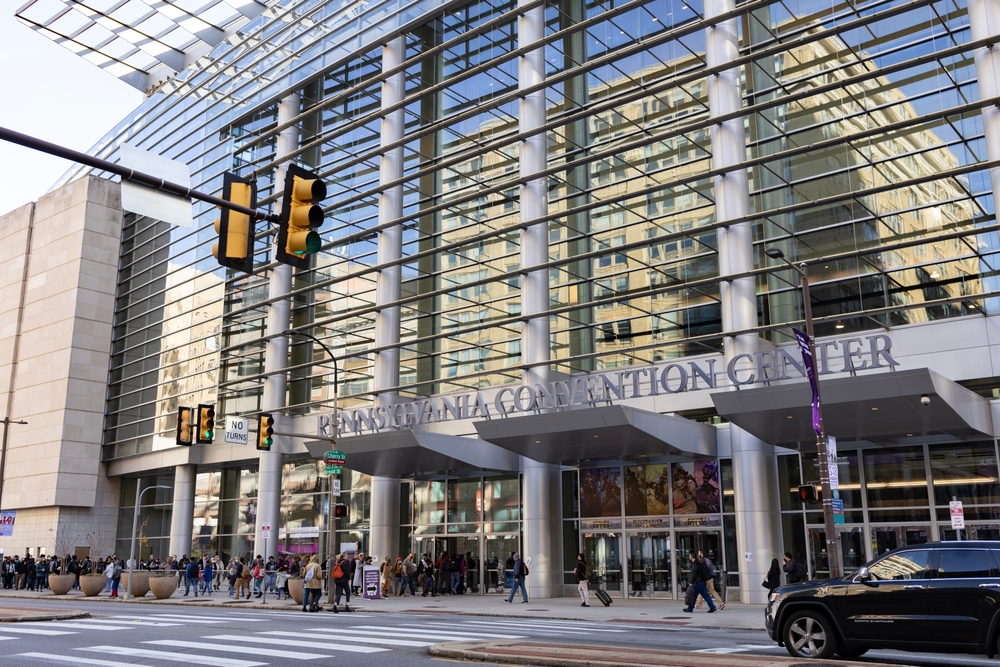 In the lead up to the UNI's World Congress in Philadelphia, we have compiled practical information for getting to and enjoying the event.
Practical Information
In August, trade union leaders will descend on the Pennsylvania Convention Center to participate in meetings by UNI Finance Europa, UNI Finance, UNI Women and UNI Global Union. The center is located at 1101 Arch Street, Philadelphia, and it is accessible by car, train, taxi, regional rail at Jefferson Station, and bus. It is a short walk from the hotels used by most UNI delegates, and Philadelphia has a fantastic public transportation system. Just a note that UNI Congress participants should use the North Broad Street entrance of the convention centre.
In addition to flying to Philadelphia, attendees can fly into Newark Liberty International Airport, a roughly 1 hour train ride from Philadelphia's 30th Street Station, or into Washington, DC, roughly 2 hours away. Train travel should be booked in advance, here.
Please note that outside of the airport and main train stations, it can be difficult to find a taxi in Philadelphia, so please plan ahead or use an application to find car transportation. 
More on getting to Philadelphia. The map below has pins for the convention centre, hotels and other venues.
Food nearby
Lunch will not be provided during the Congress. However, there are many delicious options nearby. A few recommended options are:
Reading Terminal Market – This will be a great lunch spot during the convention. It's one of oldest indoor farmers' markets in the United States and has an incredible amount to offer – from restaurants to butchers to bakeries to local artisans and souvenirs. Whether you're looking for some quick falafel, a vegan Reuben sandwich, a slice of Amish-baked pie, a bottle of local honey, fresh oysters, or one of the city's famous cheesesteaks, you'll find all that and more. A list of the market's over 80 vendors is here.
Chinatown – Philly's historic Chinatown neighbourhood is right around the corner from the convention centre and is chock full of restaurants, bakeries, grocery stores, and tea shops. A few that have been recommended include Ho Sai Gai, EMei, Spicy C, Happy Lamb Hot Pot, Sang Kee Peking Duck House and Far East Descendent.
Exploring Philly's restaurants and bars
We encourage everyone to explore Philadelphia's world-renowned restaurant and bar scene. Please see a fantastic rundown of where to eat and drink in Philadelphia here.
Hotels
The list of Congress hotels can be found here. The map above has pins for the convention centre, hotels and other venues.
Pharmacies/Toiletries
There are several pharmacies within a short walk of the convention centre where participants can pick up any travel essentials or over-the-counter medicines you might need.
More about the city
Explore more about the Philadelphia's walkable downtown, outstanding museums, award-winning restaurants, incomparable public art, and one of the largest city-owned park systems in the world. The Philadelphia Tourism Board has created this page for UNI Congress attendees with a special section for international visitors — including information on tipping, U.S. Customs and other essentials. Note well that you might need to reserve a time to visit museums in advance.
Local UNI affiliates have put together an amazing list of museums, parks and cultural attractions.
Take a look at the city's official guide for international visitors in English, French, Chinese, German, Italian, Japanese, Portuguese, and Spanish. 
Visit the Philadelphia Tourism Board's page for UNI Congress attendees here.