An estimated 20,000 bank workers marched through the sunny streets of downtown Seoul on 16 September as part of a nationwide strike organized by UNI Global Union affiliate, the Korean Finance Industry Union (KFIU). The workers are seeking a pay rise to match inflation, an end to branch closures and reduction in working hours, amongst other demands.
Police controlled the traffic as KFIU members staged a one-hour peaceful sit-in in Gwanghwamun Square. Addressing the crowd from a huge stage, Brother Park Hong-Bae, KFIU President, said:
"This is a strike for the people, for protecting the public values of finance, for a fair and just transition. We must safeguard the common good of financial services against employers who are hell bent on reducing the number of branches and employees and increasing dividends to stockholders."
KFIU represents workers at both state and private banks and says around 100,000 workers from around 7,000 workplaces took part in the one-day general strike.
Brother Kim Dong-Myeong, President of the Federation of Korean Trade Unions (FKTU), addressed the strikers, saying "The government's unilateral wage cuts, manpower cuts, asset sales, and attempts to introduce a performance-based pay system for government-run financial institutions are anti-social acts that fundamentally destroy the common good of financial services," and he promised, "The FKTU will fight together to the end until the right to survive of financial workers is fully guaranteed."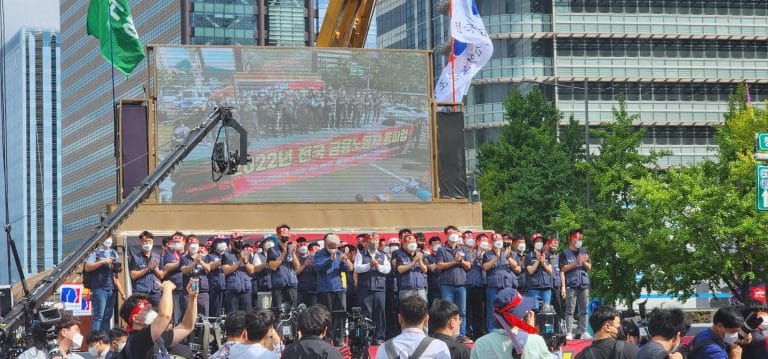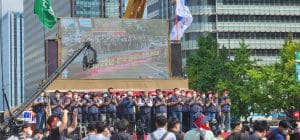 Before the strike, KFIU presented union demands of 6.1 per cent wage increase along with a 12.2 per cent increase for the low-paid group, a solidarity fund jointly paid by union members and employers, a four-day work-week system and work-from-home provisions. In last minute talks between KFIU and employers, the union rejected a final offer of a 2.4 per cent pay increase and decided to carry on the planned strike on 16 of September.
KFIU will continue negotiating with employers, but has a contingency plan of a second strike on 30 September.
On 14 September UNI Finance affiliates unanimously adopted a solidarity statement to support KFIU strike action at the UNI Finance Thematic Conference held in Dublin.
Rajendra Acharya, Regional Secretary of UNI Asia & Pacific, said:
"KFIU's struggle against restructuring and branch closures is one that is touching bank workers across the globe and UNI finance affiliates worldwide are united in their support for KFIU. As the cost-of-living crisis tightens its grip, we stand by KFIU in the fight for a fair pay increase in line with inflation and a levelling up of salaries."