Union recognition was deliberately avoided by the management of the Bank of Punjab, state-owned bank disregarding the recommendation of the countries National Industrial Relation Commission. Bank of Punjab Employees' Union [BOPEU] has been fighting in courts for years for union recognition by the management to present the charter of demands for a collective agreement to revise the terms and conditions of the employees. It is reported that Bank of Punjab employees does not get fair compensations as per industry standards in Pakistan.
Freedom for a peaceful demonstration allowed under the new political culture was capitalized by the Bank of Punjab Employees' Union in Pakistan. Union officials called all employees to join the union without fear of victimization.
BOPEU, President MD Chaudhry Farooq and Pakistan Bank Insurance-Finance Employees' Federation [PBIFEF] General Secretary Sajid Ali Abbasi made a representation to Mr Aslam Iqbal, Hon. Minister for Commerce & Industry of the new Government of Pakistan to expedite the trade union recognition and direct the Bank of Punjab management to commence the negotiation of for entering into new Collective Agreement with the union.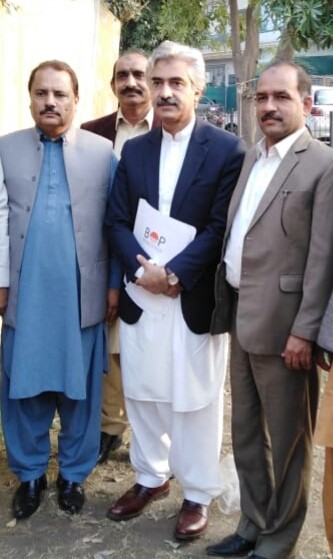 Agitated BOPEU members and PBIFEF activist held a demonstration in front of Bank Of Punjab local HQ, in Lahore, on 19th November 2018, calling for the Government to appoint competent officials to the board of the bank, and expedite the negotiation process to finalize a collective agreement to revise the terms and conditions of employees, as the employees have been undergoing hardships under the past corrupt Government officials who refused to respect trade union and rights at the workplace.