At the World Executive Board in Nyon, UNI affiliates from all over the world were recognised with Breaking Through and Freedom From Fear Awards for their outstanding work in their regions. The Breaking Through award recognises unions who have built union strength through innovative organising campaigns and built union strength in the face of adversity. The Freedom From Fear award is designated to individuals who have shown exceptional courage and strength in the face of adversity and hostile environments.
The Breaking Through Awards for 2019 were awarded to:
The Asociación Empleados Bancarios de Uruguay (AEBU) for their work in organising workers at financial and credit card companies. After organising over 1200 workers, mainly youth and women, AEBU has ensure the Uruguayan finance sector has become stronger and more secure for workers.
Elbio Monegal, the President of AEBU said, "We had to move out of our comfort zone to engage new kinds of members, particularly women and young workers. That strengthened our union and brought in previously unprotected workers, who now have good jobs."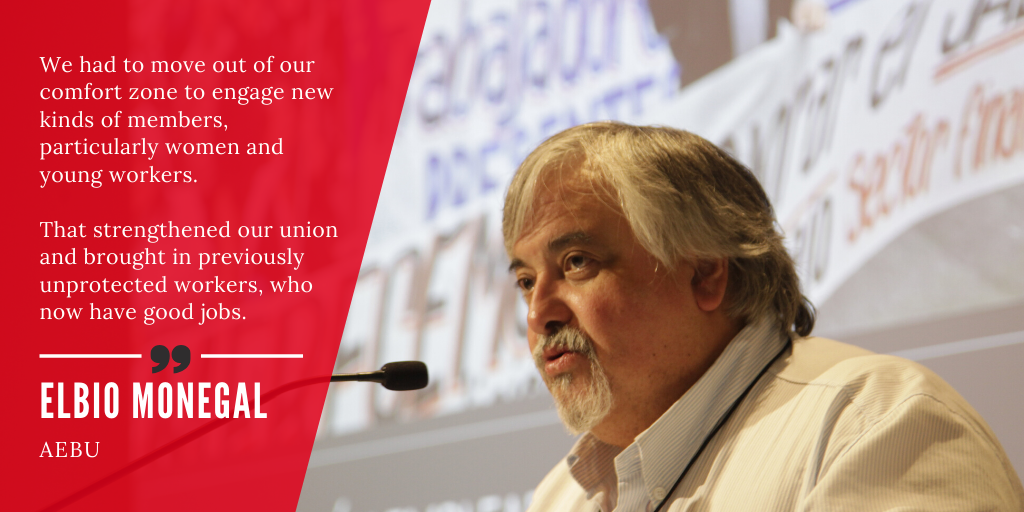 Finansforbundet (FSU-NO) in recognition of their work to build awareness of unions and of the Finance Sector Union-Norway in particular. This work resulted in a total of 3073 new members in 2018, representing a 23 per cent growth, in a declining market.
"Unions need to be more visible and relevant in everyone's every day digital life," said Pal Hellman, President of FSU-NO. "The effort to increase the knowledge and awareness of unions is a social responsibility. We have intensified our work in this sector – with good results."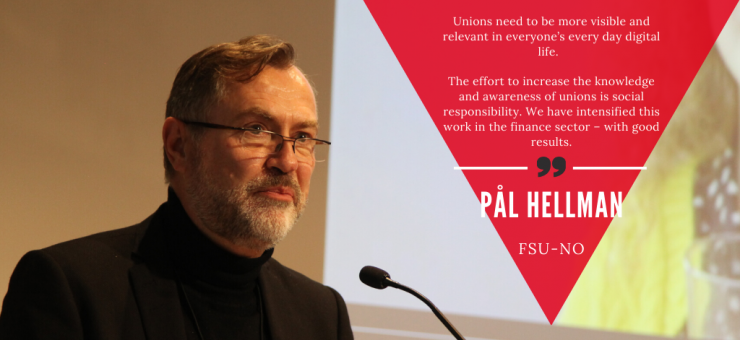 Federación Nacional de Sindicatos de la Salud Privada (FENASSAP), the Chilean healthcare union won in recognition of overcoming union fragmentation. FENASSAP now has 16 affiliated unions and represents 10,300 healthcare workers in a country where 30% of unions have less than 25 members and less than 5% have more than 300.
"We're strengthening our union movement, and the solidarity we get from UNI helps us rise up to the challenges posed by multinationals in healthcare," said Eduardo de Carmen Munoz from FENASSAP.
Swaziland Commerce and Allied Workers Union (SCAWU) in recognition of their breakthrough work at Shoprite Checkers in Swaziland. Given the high number of part-time workers in retail and the de-recognition by the retailer SCAWU faced a number of major challenges.
Patricia Nyman, who accepted the award on behalf of SCAWU said, "To be a unionist in Swaziland is very difficult. Our comrades are intimidated, threatened, and imprisoned for doing their work, but they persisted and they won."
Handelsanställdas Förbund (HANDELS) won a Breaking Through award in recognition of their tremendous membership growth from 1202 in 113 e-commerce companies to 2172 at 274 companies with a breakthrough in 2018. More than half of the market leading companies have now also signed a collective agreement.
"We need to dare to organize new types of workers as well. We have to take the trade union fight everywhere it is needed," said Susanna Gideonnson on receiving the award.
The UNI-LCJ Graphical & Packaging composed of All Printing Bureau Labour Union (Zeninsatsu), Federation of Printing Information Media Workers Unions (PIMW) and other potential affiliates were also rewarded for their joint effort Japan and India to grow members in the sector. Their exceptional work to enhance membership and bring more unions under the UNI umbrella has enabled the affiliation of 5'000 new DNPWU members to UNI in 2018.
"We need to not only expand our unions in our sector, but across sectors. Unions help eliminate poverty and create a global society with dignity and pride," said Takashi Umehara.
The Freedom from Fear Awards for 2019 were awarded to:
OPZZ KP, UZO and COZZ were awarded the Freedom From Fear Award for their exceptional work organising the first private care unions in Czech Republic and Poland. In a joint effort OPZZ KP, UZO and COZZ achieved this historic breakthrough despite working in an exceptionally challenging and hostile environment: no union tradition and a staunchly anti-union setting. Beyond the call of duty, one of the organisers took a job in the care home for 9 months in order to be able to meet the workers and better understand the situation.
Representing COZZ, Magda Zdyra said, "Can you imagine the neverending struggle as a care worker? Long days, stress, huge responsibilities – and on top of that, incredibly low pay? That's why, even in the hardest moments, we kept building and fighting for the union."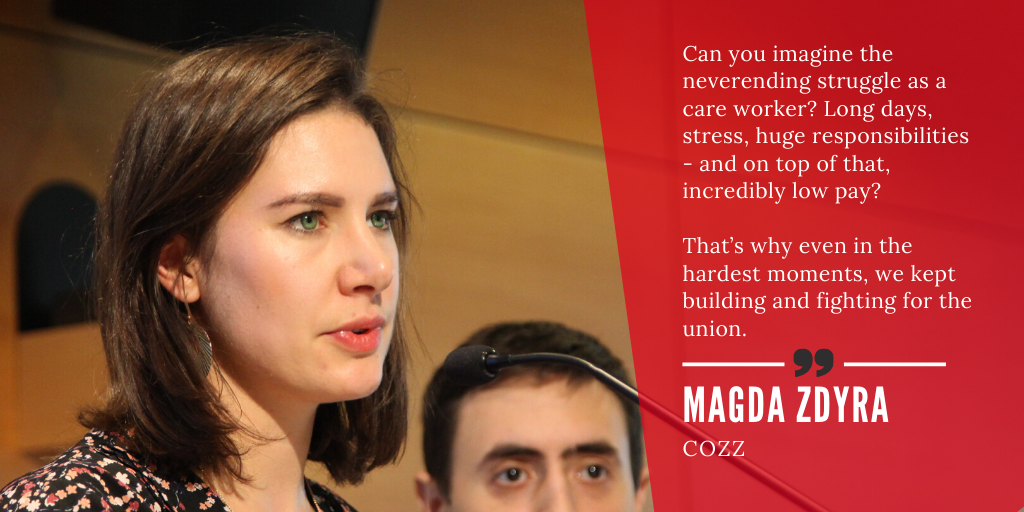 Awards also went to human rights defender and Bahraini footballer Hakeem al-Araibi and the campaign to free him from a Thai prison and prevent his extradition to Bahrain, as well as the General Secretary of the Zimbabwe Banks and Allied Workers Union, Peter Mutasa. The Hakeem campaign was led by former Australian football captain Craig Foster working in close cooperation with UNI World Players. Peter Mutasa faced persecution for his role as a trade union leader in his country after seeking to improve access to basic commodities for Zimbabwean workers and for the wider community.