The Diamond Jubilee Conference of All India Bank of Baroda Employees' Federation [AIBOBEF] was commemorated of the Bank of Baroda's birthplace, in the city of Baroda on 9th and 10th March 2019, in the state of Gujarat in India.
AIBOBEF was one of the first unions to come out of the Communist-dominated AIBEA and former an independent nonpolitical union. It is an affiliate of National Confederation of Bank Employees' in India. The 'Federation' is a majority Organization and is recognized as Sole Collective Bargaining Agent on behalf of Workmen in Bank of Baroda.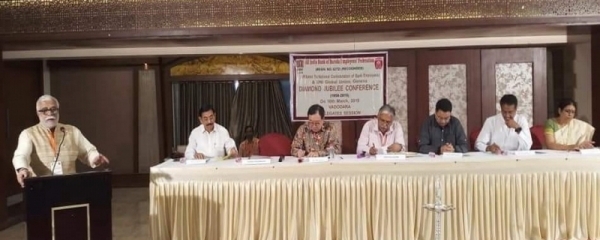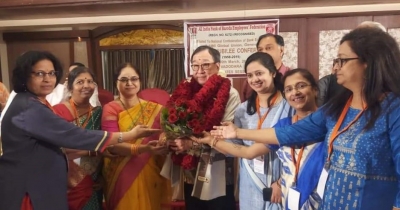 Dr Bharat Danger former Mayor of Baroda and a Director of the Bank. Mr K Lakshma Reddy, National Vice President of Bharatiya Mazdoor Sangh (BMS) the largest central trade union in India was the Chief Guest, who inaugurated the conference. On this occasion, the Federation's Life Time Achievement Award was presented to Mr Ramanbhai Vora, Former Speaker of the Gujarat Assembly and a Minister for 4 terms as he was a former official of the Federation.
The Delegates Session was inaugurated on 10th March by Bro Christopher NG, Regional Secretary of UNI APRO. Christopher was felicitated and presented with a plaque commending him for his outstanding contribution to the workers in the INDO PACIFIC Region.
The AIBOBEF was founded on 9th May 1958 in a founding Conference held in Ahmedabad. Mr Natwarlal Shah, former Speaker of Parliament was elected as President and Mr M. Rajgopal was elected as Gen Secretary.
The session was also addressed by Bro. Rajendra Acharya, Asst. Regional Secretary UNI APRO, Bro Jayasri Priyalal, Regional Director, Finance sector and Professionals & Managers Group, Bro J.S.R.Prasad, Director UNIDOC, India and Sis Anjali Bedekar, Coordinator, UNI-ILC.
All the guests were felicitated by the Gen Sec of the Federation Bro Milind Nadkarni and other office bearers.