Cover photo: KHMU declares strike on 2 September in the 27 August press conference
The Korean Health and Medical Union (KHMU) announced at a press conference held on 27 August 2021 that the union will go on a sanctioned strike from 2 September onwards, making good on its promise made earlier in June.
Talks between the union and the government representatives to address the acute situation of medical and healthcare workers on the ground started in May until it stalled at the 11th round of negotiations on 26 August.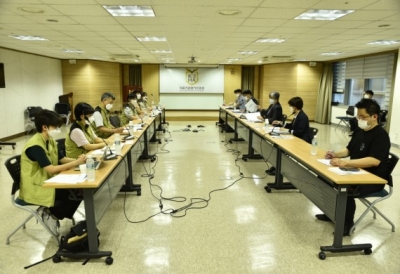 KHMU meets Korea Diseases Control and Prevention Agency, 25 August 2021
KHMU took a vote from among 124 local unions in 136 hospitals and clinics between August 18-26. More than forty-one thousand members approved the industrial action (89.76% approval) if talks failed.
At the press conference, Sister Na Sun-Ja, President of KHMU, explained, "The situation is no longer bearable. We have done everything we can during the last 19 months, but we are burning out under this exhausting situation. Nobody will know when the pandemic will end.
"We have tried our best to negotiate in good faith our key demands, but, unfortunately, there is no meeting of minds between the government, the employers' representatives, and us."
The union guaranteed that the strike action would not compromise patient safety and level of medical care. They have ensured adequate members would remain in the place of work when the strike starts. They also assured that all striking workers are vaccinated, wear PPE, face shields, and masks, and adhere to social distancing rules.
The union also emphasized that their primary wish is to continue the negotiation with the Ministry of Health & Social Affairs.
They persisted with the 12th round of negotiations on 30 August, which failed to progress. Nonetheless, the union would make a last attempt today (1 September) to break the deadlock.
The government must take a concrete decision to arrive at a realistic solution. Until that happens, the strike action will take place starting at 7 am on 2 September.
Adrian Durtschi, Head of UNICARE, expressed his solidarity with KHMU, saying, "The members of the KHMU must have decided to strike with a heavy heart. It is not a rash decision. The union has sincerely negotiated over many months with the government and employers. But with no common ground, enough is enough. UNI Global Union stands with KHMU and its members!"
UNI Apro Regional Secretary Rajendra Acharya similarly said, "It is not easy for KHMU to go ahead with the strike during the middle of the pandemic. The public would understand and support the union's position. The government must rethink its position and come to a compromise."
Throughout the past two years, the critical improvements that KHMU are asking for:
Expanding public medical services
Establish a specialized hospital dealing with infectious diseases like COVID-19 and systematizing workforce standards, including an adequate compensation framework.
Set up one public medical center in every 70 medical zone unit nationwide.
Enhance public investment to increase capacity, infrastructure, and workforce for public hospitals.
Improve working conditions and increase medical personnel
Develop guidelines to ensure an adequate level of personnel in each job category, legislate the number of nurses per patient, and extend nursing-care integrated services.
Implement a regular and predictable shiftwork system and improve the policy on education and training for dedicated nurses.
Eliminate the illegal practice of Physician Assistants (PA) in hospitals
Ensure quality medical services by restricting the deployment of atypical workers and by strengthening assessment criteria.
Increase the number of medical doctors by establishing more public medical colleges.