Two leaders of UNI Global Union affiliate, the Korean Health and Medical Union (KHMU), ended their 10-day hunger strike on 3 December after the Korean parliament approved a national budget to improve public health services.
KHMU President Na Sun-Ja and Vice-President Lee Sun-Hee, began their protest after a lack of progress in funding its ground-breaking agreement with the Korea Ministry of Health and Welfare (MOHW). The widely lauded 9.2 Labour-Government agreement, spearheaded by the union, is critically needed to overhaul the acute and chronic staffing and financing problems that have worsened during the pandemic.
"I thank all our colleagues who extended their full support during this period, including the one-day solidarity hunger strike conducted by local unions in many regions. Together, we have demonstrated our firm commitment to the betterment of our society through improving our public medical and health services," said Sister Na Sun-Ja. "Our fight is meaningful! The government must keep their promise without delay, and not just sign a paper agreement leaving nobody to be responsible for its implementation."
The hunger strike was called off when news emerged of the National Assembly finally passing the relevant acts and amendments that would ensure the core provisions of the 9.2 agreement could be funded appropriately.
KHMU also mobilized a rally on 24 November in front of the National Assembly building to ensure the government would stay committed to financing agreement it reached with the Korea Ministry of Health and Welfare.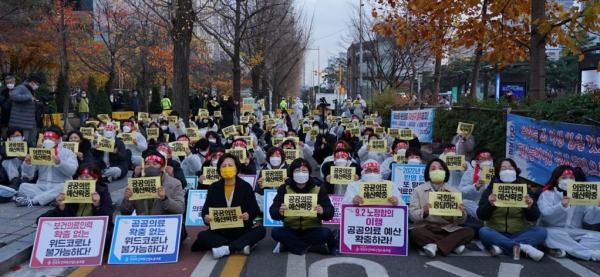 According to the union, some of the most significant achievements are:
Securing the design cost of building new public hospitals in two major cities, and the implementation of research projects in 13 regions.
An increase of W120billion (US$101.5 million) to the workforce budget which will be used to fund hazard pay allowances for healthcare workers during the pandemic.
An additional W1billion (US$846,5000) allocated for the development of the workforce statistics system and the standardization of the health and medical services workforce standards.
A special budget to provide subsidies for nurses responsible for the education of newcomers in the public hospitals.
A pilot project by the National Health Insurance Corporation in private hospitals will receive the green light for implementation.
UNI Asia and Pacific Regional Secretary Rajendra Acharya and Head of UNI Care, Adrian Durtschi, said: "We congratulate the KHMU for successfully lobbying the National Assembly to pass the bills that will properly fund the 9.2 agreement. We look forward to seeing positive reports of progress in the coming year."