UNI Apro is proud to share the latest breakthrough achieved by our affiliates in Malaysia where 54 union leaders from the UNI MLC has recently been appointed as panel members in the Industrial Court of Malaysia for the period of 2019-2022.
This is an unprecedented achievement where so many of our affiliated leaders have been appointed in a national tripartite dispute resolution mechanism. UNI MLC President, Datuk Shafie BP Mammal, attributes this recognition to the collective efforts of the union leaders in propagating and instilling confidence in the SMART partnership philosophy among employers and the government.
UNI MLC's approach has been received well over time which is essential to their work in promoting industrial harmony, decent work agenda, and providing services such as voluntary consultation to unionised and non-unionised workers in Malaysia. The latest appointments serve as acknowledgement from the Government of UNI MLC's role as a labour centre serving all workers in Malaysia including migrant workers.
According to information listed on the Industrial Court's website, trade disputes filed with the Court will be heard by a panel comprising a Government-appointed Chairperson, and one representative from the employer and workers' organisations. The role of the workers representative is to assist the Chairperson in reaching a decision on any case on an impartial basis.

On 25 March 2019, Datuk Shafie led a UNI MLC delegation to pay a courtesy visit with the President of Industrial Court of Malaysia, Y.A. Tuan Eddie Yeo Soon Chye and 3 other Chairman of the Industrial Court. The Court's President had an exchange with the visiting delegation and also elaborated on the expected roles and responsibilities of the newly appointed panel members.

A ceremony was held on 9 April to award the appointment certificate to all the 54 union leaders. During the ceremony on the 9th April, the Director General of Industrial Relations Department Malaysia presented the certificates, signed by the Minister of Human Resources Malaysia, to all the panel members. The term of appointment is for three years and it effectively started from 17 February 2019 and will end on 16 February 2022.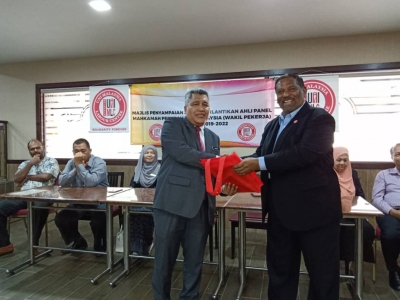 UNI Apro Regional Secretary, Christopher Ng, expresses his delight with the encouraging development, he said: "this is a remarkable achievement for UNI MLC's union leaders and an outstanding testament to their longstanding contribution to Malaysia's industrial harmony. I congratulate them on the appointment and also look forward to the continual success of UNI MLC!"