The UNI Apro ICTS held its 6th Sector Conference earlier this month on the 1st and 2nd September 2021.
The highly anticipated digital event attracted more than 200 participants, including 37 titular delegates, 27 observers, 209 guests, and 27 staff attending in support.
UNI Apro ICTS President, Minao Noda, presided over the event and was joined by Christy Hoffman, UNI Global Union General Secretary, Andy Kerr, UNI ICTS President, and UNI Apro Regional Secretary Rajendra Acharya lending their solidarity and fraternal support.

The speakers paid homage to the critical role of the ICT sector, which enabled people to continue to stay connected during the pandemic.
Christy Hoffman emphasized that the ICTS is a significant driver of jobs growth and wants to ensure that this growth is similarly accompanied by a growth in unions in the Asia and Pacific region.
Andy Kerr expressed concern that in many places where the sector is growing, such as Bangladesh, the Philippines, Myanmar, and India, respect for human rights is undermined. Despite these challenges, he pledged UNI and UNI Apro ICTS would work together to support all efforts in helping workers to organize anywhere in the Asia and Pacific region.
Rajendra Acharya agreed that while a growing ICTS drives jobs growth, he warned that many of these jobs are unorganised. He reaffirmed UNI Apro's commitment to work with UNI ICTS to develop the best strategies, network, identify, and work with good partners in the field to organise and bring new members into the union network.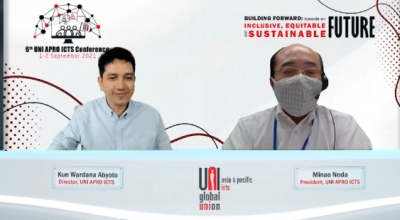 The conference featured content-rich discussion panels powered by the active sharing of experienced affiliates, which greatly benefited the conference participants.
Topics covered in conference sessions included confronting the challenges brought on by remote work which was moderated by Benjamin Parton, Head of Department for UNI ICTS. Sessions on understanding the current landscape in organising key regional and global telecom companies, contact centres, global IT companies, and adopting innovative organising strategies in the digital era were moderated by Kun Wardana Abyoto, Director of UNI Apro ICTS.
The conference featured a special session dedicated to the role of telecom companies in Myanmar.
This session was held in recognition of ICTS's impact on human rights and UNI's links with two of the four existing telecommunications companies – Telenor, and in part with MPT through its joint venture with Japanese company KDDI (the KDDI Workers' Union is affiliated to ICTJ).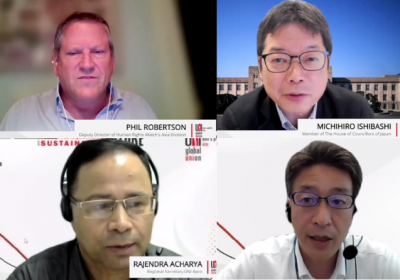 Regional Secretary Rajendra Acharya moderated the session that featured two guest speakers, Phil Robertson, Deputy Director of Human Rights Watch Asia Division, and Michihiro Ishibashi, Member of the House Councillors of Japan. Toru Harukawa, President of KDDIWU, provided added information on the measures taken to ensure the safety of their members in Myanmar.
The conference adopted the following major policy decisions:
"Building Forward: Towards an Inclusive, Equitable and Sustainable Future," UNI Apro's agenda for an inclusive, equitable, and sustainable future driven by a human-centred approach to recovery.
The UNI Apro ICTS Strategic Action Plan 2021 – 2025
The strategic plan aimed to empower ICTS workers and ICTS unions in the region by growing strong trade unions that can effectively protect the rights and promote ICTS workers' interests and improve UNI Apro ICTS to serve the needs of UNI's ICTS affiliates better.
The implementation of these strategic goals are guided by the key elements of promoting social dialogue, research, develop organising campaigns focusing on telecom employees, contact centre workers, IT workers, outsourced workers, and also professional and managerial staff in the ICT Sector, and fostering activities within individual countries and across borders involving UNI & UNI Apro affiliates.
At the confirmation of the new UNI Apro ICTS Committee, the conference paid a special farewell to outgoing President Minao Noda, who has served as the sector's President for two terms.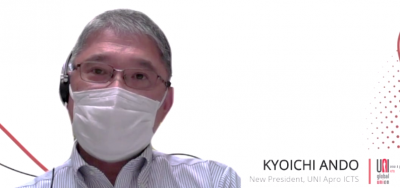 Kyoichi Ando, the new President of ICTJ, was confirmed as the UNI Apro ICTS President. UNIVEN Malaysia and UNIICTS-Nepal strongly supported his nomination.