October 9 is World Post Day, marking the anniversary of the Universal Postal Union, which started in 1874 in Switzerland.
To commemorate the occasion, UNI Apro P&L is pleased to highlight the account contributed by UNI affiliate, the SLPTS Union-Sri Lanka, of the humanitarian mission it has undertaken during the pandemic.
Like most places everywhere, Sri Lanka has imposed curfews and lockdowns to combat the spread of COVID-19.
Due to this, many patients, especially the elderly, could not access the country's healthcare and medical institutions.
A solution was to deliver the much-needed drugs and medication to the patients directly.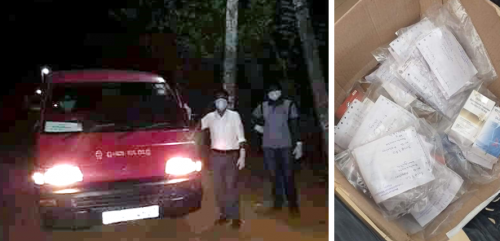 However, this posed to be a massive logistical challenge.
To overcome the problem, the State Pharmaceutical Corporation and Ministry of Health requested assistance from Sri Lanka Post – one of the oldest departments in the country.
With no hesitation and at no extra cost to the recipients, the Sri Lanka Post ensured the humanitarian challenge was a massive success by leveraging its biggest asset – the extensive postal network developed over its 209 years history and over 26 thousand employees.
At the same time, there were challenges faced by the postal workers. The nature of the work meant Work-From-Home or Remote Work is not an option. Many of the workers were in danger of contracting COVID-19 due to their frequent exposure to the public.
The Sri Lankan Postal Unions fought to ensure the members could remain safe to the greatest extent possible and compensated for the risk they faced and demanded that:
Postal sector workers receive priority vaccination
Post offices to close for two days per week to let postal employees reduce exposure from the public
Transport allowance for postal workers using their personal vehicles
Dedicated quarantine centres are set up for postal workers only
Postal workers receive face masks, soaps, hand washing facilities, and sanitizers
It is laud worthy to note that most of the demands were met. Three UNI affiliated postal trade unions further complement the government's efforts by providing their members with monetary compensation if they contracted COVID-19.
An incredible achievement of the postal sector during the pandemic is forming a powerful trade union alliance, "Postal Trade Union Power," created by six of the biggest postal trade unions, and all three UNI affiliates are part of it.
UNI Apro P&L is very proud of all the UNI affiliates and their members for their selfless sacrifice and contribution and looks forward to engaging the new alliance in the coming days ahead.