On June 25 2019, the Philippines Labour Department granted formal recognition to the UNI Global Union – Philippines Liaison Council (UNI PLC) with the Certification of Registration. With this acknowledgment as one of the country's trade union centres, the UNI PLC can formally participate in tripartite discussions on issues affecting workers and the trade union movement at the national level.
This latest development is part of UNI PLC's strategic direction adopted last February 2018 when it reorganized itself to become a more dynamic liaison council of the UNI Global Union. Since then the UNI PLC undertook measures to prepare for the registration with the Labour Department including electing a new set of officers, drafted and ratified its Constitution and By-Laws, and initiated an affiliation dues system. It has also initiated projects which included a six-month union organizing course, learning sessions on important labour-related issues and advocacy and solidarity work.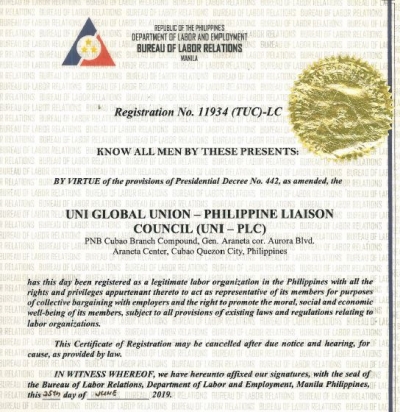 UNI Apro Regional Secretary, Christopher Ng, offered his congratulations upon learning the news, "The successful registration will provide a strong foundation to grow UNI membership and expand UNI influence in the Philippines. I look forward to UNI Apro and UNI PLC in expanding our co-operation and partnership to work towards achieving our common vision of a better world for all workers."
Datuk Mohamed Shafie, President of UNI MLC (Malaysia), also offered his congratulations to Bro Exequiel Nidea, the President of UNI PLC, for achieving the successful and smooth registration. He said, "We are confident that under your leadership and guidance, UNI PLC will continue to grow in affiliations from various sectors of the industry in the Philippines. UNI MLC will continue to lend all our support and cooperation for the success of UNI PLC in their national and international activities."
UNI Apro is confident that UNI-PLC will be able to more effectively advance the interests of workers and particularly of skills and services worker in the Philippines. Similarly, the UNI PLC's executive committee expresses hope that this milestone will effectively facilitate UNI's and UNI Apro's agenda of promoting the protection of workers' rights in a digital economy, putting a social dimension in regional integration, and promoting responsible, inclusive and empowering business forms and practices.
Congratulations to UNI PLC!
UNI PLC's contact person:
Mr. Exequiel Nidea
UNI PLC President
Address: PNB compound, Araneta Center, Cubao, Quezon City
Contact No(s): 02 (9138276); 02 (9122378)
Email Address: exienidea@gmail.com