A joint delegation from UNI Global Union affiliate, the Ceylon Bank Employees Union (CBEU) and UNI Asia & Pacific (UNI Apro) paid a first visit to the Central Bank of Sri Lanka on 13 June 2023.
The delegation, comprising UNI Apro Regional Secretary Rajendra Acharya, UNI Apro Finance Sector Director Jayasri Priyalal, CBEU President Channa Dissanayake, CBEU General Secretary Ranjan Senanayake, and CBEU Vice-President Anupa Nandula, called upon Dr Nandalal Weerasinghe, Governor of the Central Bank of Sri Lanka.
The visit aimed to support the CBEU in establishing relations with key financial institutions such as the Central Bank and foster the development of Social Dialogue in the Banking and Finance industry in Sri Lanka. A meaningful social dialogue amongst all stakeholders is critical to discuss impending challenges and identify opportunities for solutions to enable Sri Lanka to recover from its current crisis.
In addition, the visit also aimed at expanding the opportunities for UNI Apro Finance to dialogue on sustainable financing for a circular economy.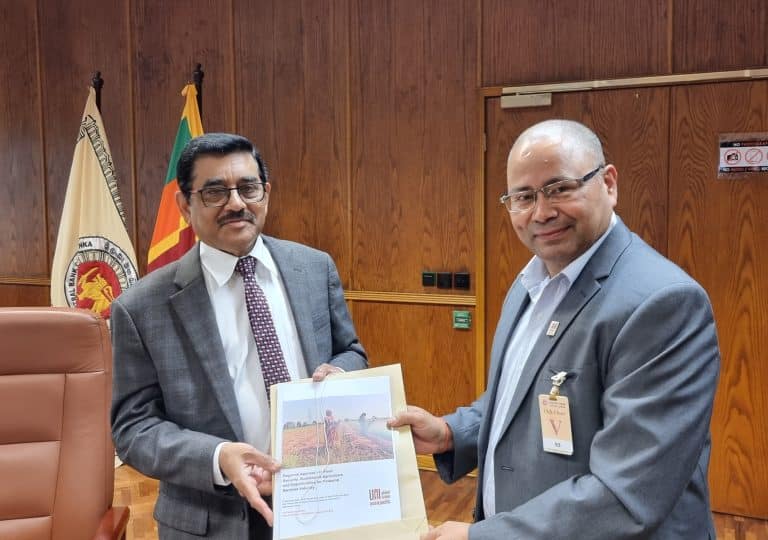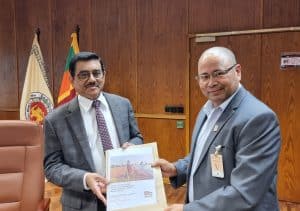 The UNI Apro Regional Secretary handed over to Dr Weerasinghe a paper, the Regional Approach to Food Security, Sustainable Agriculture and Opportunities for Financial Services Industry, commissioned by UNI Apro Finance for the 6th South Asian Finance Sector Unions Council (SAFSUC) Meeting, and authored by Dr Ranee Jayamaha, Lead Consultant of the World Bank Group South Asia.
Dr Nandalal Weerasinghe expressed interest in taking up the proposal when Sri Lanka assumes the Chair of SAARC-Finance (Network of Central Bank Governors and Finance Secretaries of the SAARC Region) by the end of 2023.
This courtesy visit follows up on the UNI Finance Delegation's earlier visit to Mr Esala Ruwan Weerakoon, Secretary General of the SAARC Secretariat, in Kathmandu, Nepal, on 5 April 2023.