Leading Italian financial services company UniCredit has signed a global agreement with UNI Global Union on January 22 that secures human and labour rights as well as responsible, sustainable sales practices for the bank's 147,000 employees in 22 countries.
The agreement, the first of its kind by an Italian financial services multinational, demonstrates UniCredit's commitment to corporate accountability and rights at work by:
Ensuring that employee sales goals and products offered are fair, transparent, and sustainable while meeting customers' needs. This is the first financial sector agreement with these important protections, and they echo the principles of UNI Finance's Charter of Responsible Sales.
Observing the United Nations Guidelines on Business and Human Rights and striving to remedy any harmful effects of its activities and businesses on human rights.
Allowing employees to exercise their freedom of association, particularly the right of all employees to organise, join a trade union of their choice and undertake collective bargaining.
Combatting discrimination and promoting diversity, equal opportunities, recruitment and retention of disabled workers and respect for equality between women and men.
Providing healthy and safe working conditions for all employees.
Christy Hoffman, General Secretary of UNI Global Union, speaking from Davos, said, "This agreement sets a new standard for how our financial institutions should behave—elevating the rights of employees and customers. UniCredit has long been a leader in financial services, and is now showing great leadership as an employer and commitment to its global workforce."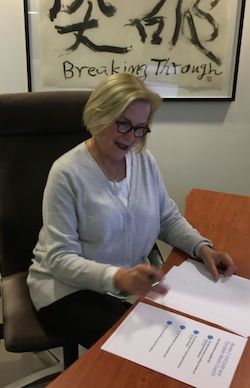 UniCredit CEO Jean Pierre Mustier commented: "At UniCredit, we believe that to do well, we must also do good, and always acting ethically is a core part of this. Our success depends on respect: an open culture which allows each and every one of our people to actively add value to our business."
Angelo Di Cristo, Head of UNI Finance, stated, "Along with financial services unions in Europe, we worked with UniCredit to reach a strong, thorough agreement that sets many benchmarks for the industry. We look forward to continuing our partnership with the company."
The agreement is valid for two years, and it has a robust enforcement mechanism to resolve any disputes over its implementation.
The agreement was made possible by the foundation laid by UniCredit's European Works Council, the UNI Finance Trade Union Alliance of UniCredit and the bank's commitment to social dialogue.
UNI Global Union, based in Nyon, Switzerland, represents more than 20 million workers from over 150 different countries in the fastest growing sectors in the world – skills and services. It has more than 56 global agreements across its 12 sectors. UNI Finance represents 3 million banking and insurance workers worldwide.