Tran Minh Hung, the President of MMVN Trade Union, Trade Union & Occupational Safety & Hygiene Office (OSH) reported that other than providing PPE and given safety training to employees, the MM Mega Union has negotiated in early March 2020 and gotten the approval from the Board of Management for the following additional contents:
Employees who are pregnant for 7 months or more are entitled to a leave until March 31, 2020 with full wages.
Employees who are for pregnant from between 1 to 6 months and working in front-facing roles will be transferred to work places with little contact with customers.
If an employee is isolated and their home is blockaded by a decision of the government authorities, the employees will still be entitled to a full salary until he or she returns to work.
Employees wishing to stay home are allowed to use annual leave.
Company Union has circulated a letter calling on employees to strictly comply with the company's regulations on handling crisis and stay calm and not to listen and exchange unverified information. At the same time, in the event of any emergency, employees can call to take leave and ask other to complete the job.
The Union to continuously working closely with the Company Crisis Management Team (CMT) for COVID-19 prevention and control to discuss issues related to its employees.
Beating the coronavirus is everyone's responsibility, a YouTube video was produced to encourage and raise awareness among the staff on the virus. Another one targeted for children on the ABC of handwashing were also distributed.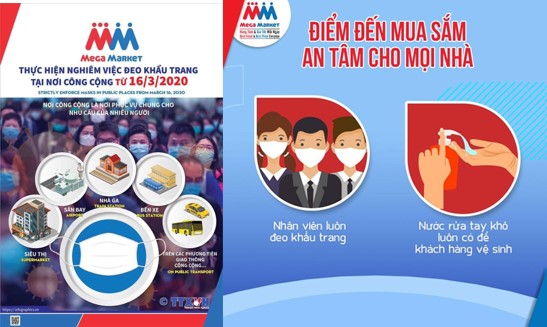 The MM Mega Market Vietnam Trade union represents workers in MM Mega Market Vietnam (MM) which started its wholesale operations locally in 2002 and now has developed to 20 stores all over the country with 5 platforms in 14 cities and provinces with nearly 4,000 employees.