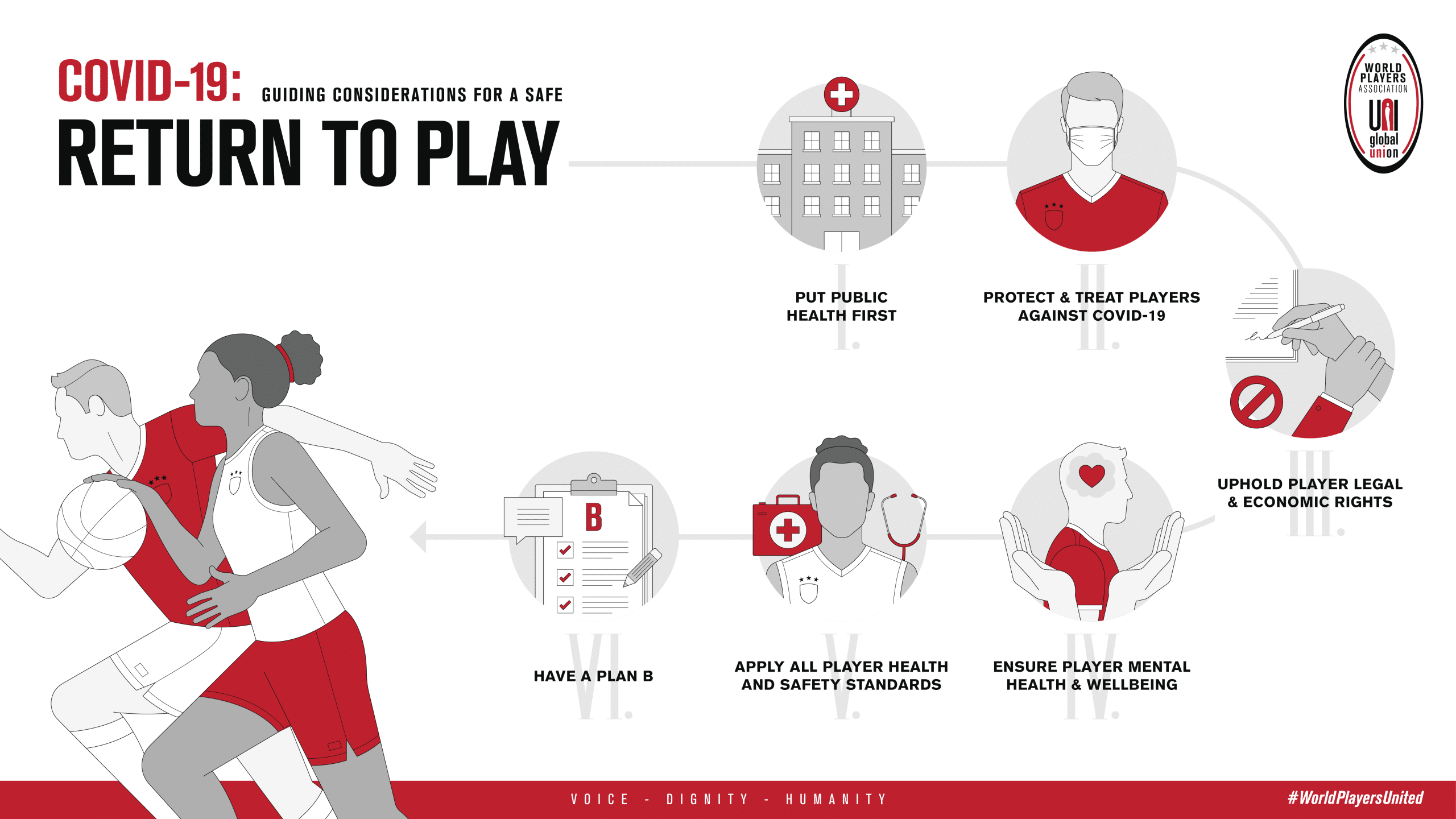 The World Players Association said today that there are six essential requirements all sports must address as players, teams, leagues and broadcasters negotiate for professional sport to resume without fans following a global pause caused by Covid-19.
The World Players Association 'Guiding Considerations for a Safe Return to Work and Play' have been developed during intense consultation with player unions and with expert input from medical professionals, public health specialists, sports physicians, epidemiologists, workplace health & safety specialists and liability lawyers.
Designed to support player associations in return to play negotiations and in the vigilant monitoring of player health and safety once sport has resumed, the considerations provide an overarching framework for a safe return to work and play.
The considerations raise key questions to be examined under the following six principles:
1) The public health crisis in the relevant markets must be under control
2) Players must be protected against the unique individual and environmental risks COVID-19 poses to their health & safety, and be able to access the highest standards of treatment and medical care should they contract COVID-19
3) Players must not bear the legal, economic and health-based risks of return to play
4) Adequate mental health and social wellbeing support mechanisms must be available
5) The usual high standards of player health and safety that are essential given the inherent risk of the sports workplace must continue to be made available
6) Given the foreseeability of a second wave of the pandemic, each sport needs a transparent 'Plan B'
Brendan Schwab, Executive Director of World Players, says:
"While many players around the world have demonstrated their commitment to get back to work, it cannot be at any price. Player rights and safety cannot be compromised by the economic pressure of resuming sport.
"There is still a lot that is not known about Covid.-19, which remains a highly contagious disease that lacks a known treatment and available vaccine. Playing sport is at odds with the measures the community has taken with great discipline to control the spread of the virus. By returning to work, players are placing themselves and their families in a potentially hazardous situation.
"Our Guiding Considerations help player associations not only undertake negotiations for a safe return to work, but monitor that return with vigilance in what will be a dramatically evolving and changing environment."
Christ Hoffman, General Secretary of UNI Global Union, said:
"Trade unions are playing a huge role in protecting worker safety and rights during the pandemic, and the same is true in sport. These six essentials from World Players, a part of UNI Global Union, offer an invaluable framework for a safe return to play. "
The World Players Association is the exclusive global voice of organized players and athletes across professional sport. It brings together 85,000 players through more than 100 player associations in over 60 countries. Its role is to ensure that the voice of organised players is heard at the highest levels in the decision-making of international sport.