Day 2 of UNI's World Congress addresses urgent issues for workers everywhere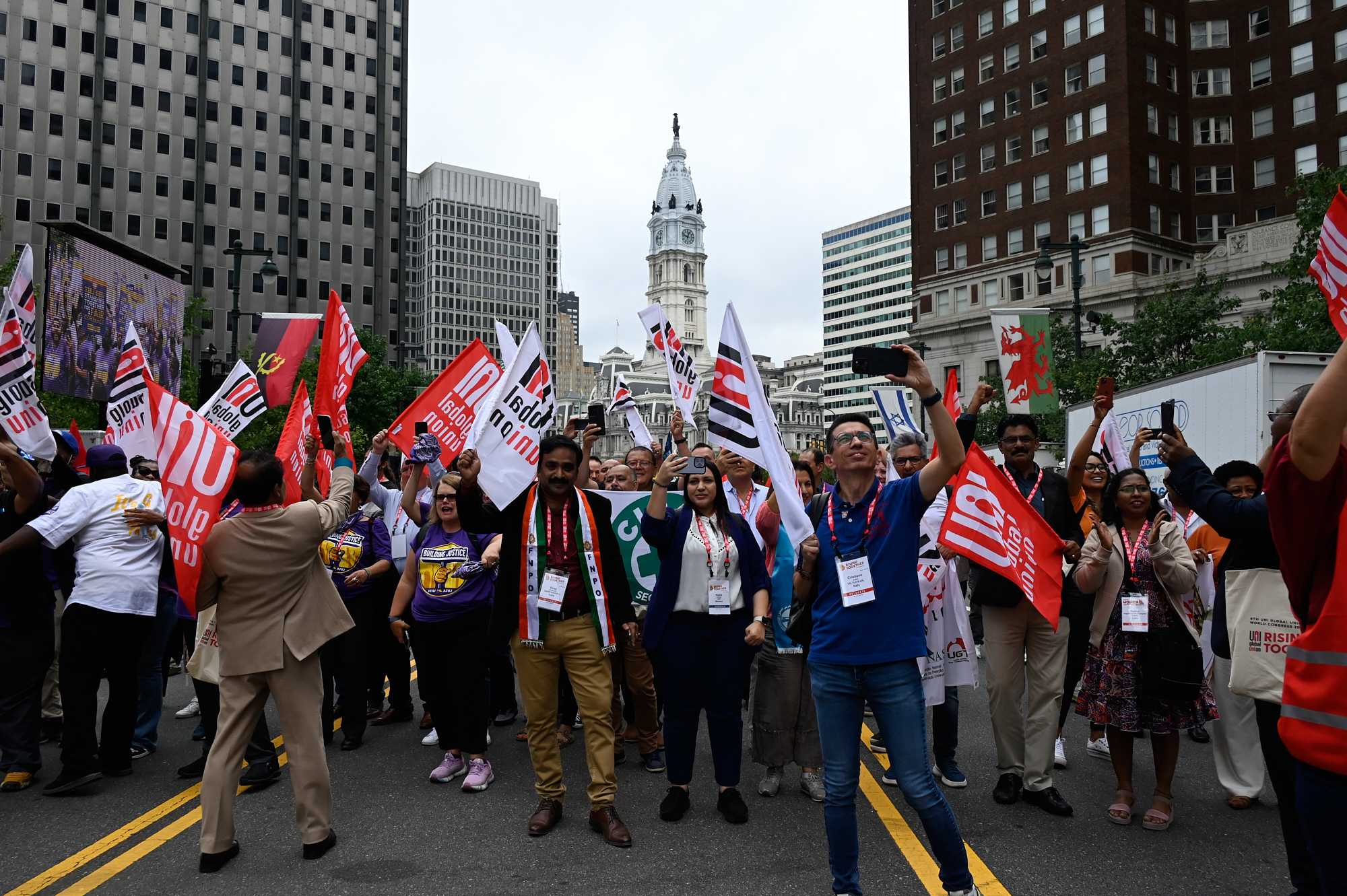 "We can only defeat corporate power by building workers' power, by rising together to change the rules. And that's our joint fight." With these words, ITUC Acting General Secretary Luc Triangle set the tone for Day 2 of UNI Global Union's 6th World Congress.
The first session, titled "A Just and Inclusive Economy," moderated by UNI General Secretary Christy Hoffman, interwove perspectives from union leaders across the globe. Frank Werneke, President of Germany's ver.di, emphasized the effectiveness of strikes and industrial action for securing better collective bargaining. "Strikes work," he stated, pointing to ver.di's growth by 140,000 members as evidence.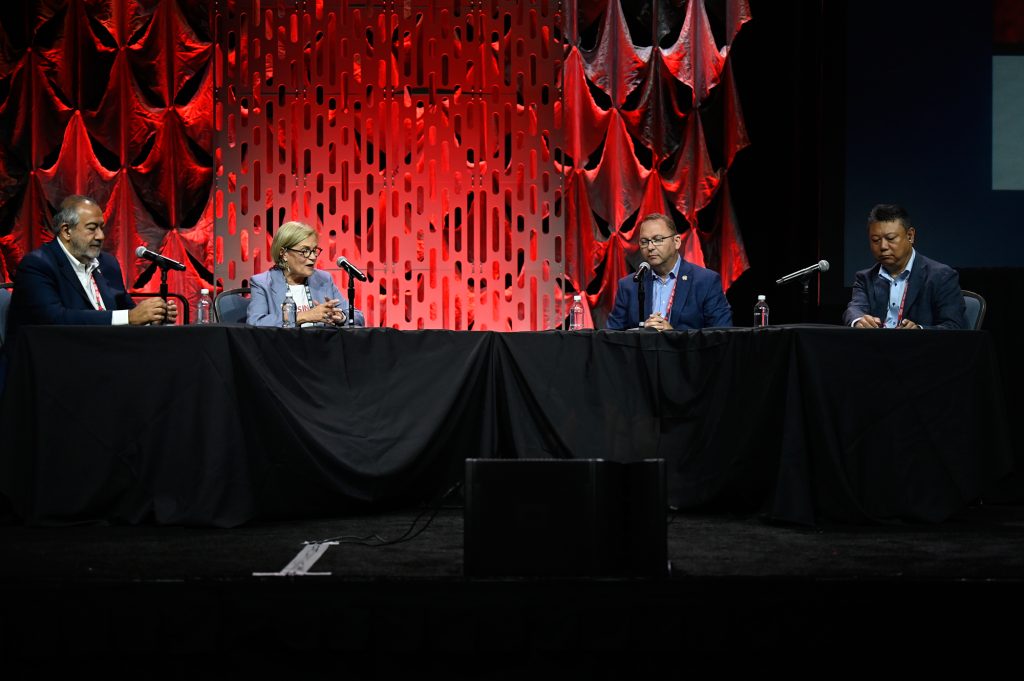 Citing his union's success fighting inflation, FATSA General Secretary Hector Daer echoed this sentiment. "We're growing the power of trade unions at the bargaining table and on the street. We have many different ways of doing this, but we are based on a unified trade union," he said.
On the other side of the globe, Keita Ogawa from Japan's Confederation of Automobile Workers highlighted how their Spring Offensive successfully protected labour against price increases, resulting in the largest pay rises in decades.
Maurice Mitchell, National Director of the Working Families Party, gave a keynote address during the session "Rising Together Against Inequality, Racism and Discrimination." Mitchell inspired the UNI crowd with a master class in what true solidarity looks like.
"The bosses know that when the working class is in conflict with one another, they win. When workers see the victories of workers as our own, we win," he said.
After Mitchell's speech, cleaners, security officers and other members of 32BJ SEIU charged into the room with drums and chants calling for a fair contract for cleaners. UNI delegates joined the largest property services local in the United States on the streets of Philadelphia for a lively rally to kick off 32BJ's contract campaign in the city.
UNI's Hoffman highlighted the power of this global solidarity:
"Unionists from all over the world are proud to support 32BJ in Philadelphia today. As they fight for a fair contract, these courageous cleaners are not just fighting for their livelihoods, but for the heart and soul of a country. Their sacrifices during the pandemic must be acknowledged with contracts that uphold dignity, protect families and rebuild neighbourhoods. This pivotal moment in Philadelphia resonates far beyond its streets, setting an example for working people everywhere."
But the day's momentum didn't stop with the rally.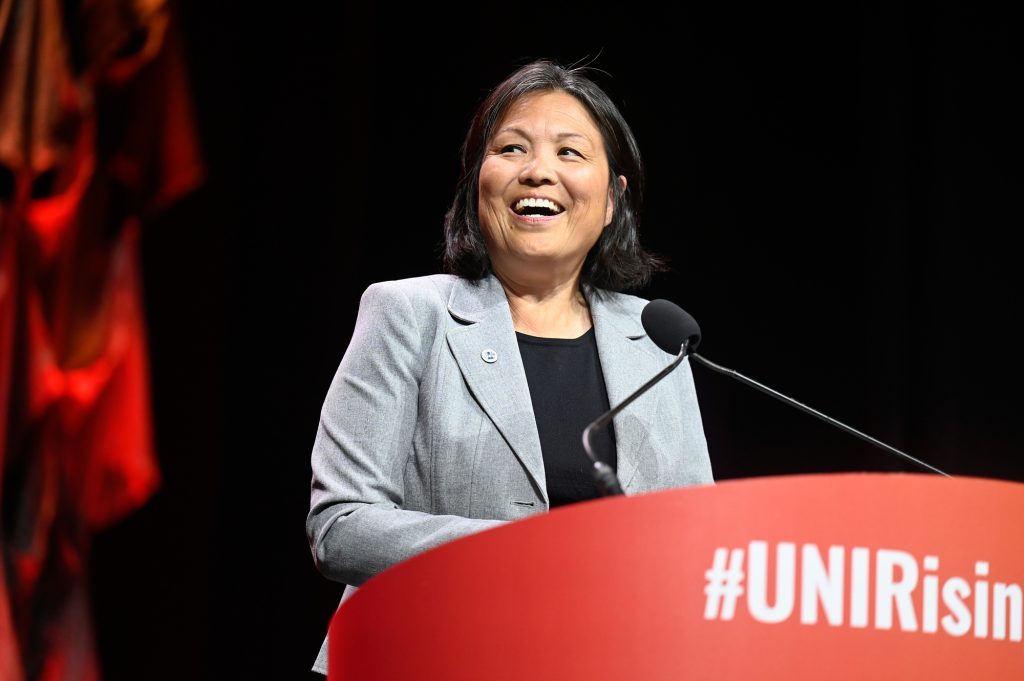 U.S. Acting Secretary of Labor Julie Su spoke to a fired-up UNI Congress to let us know that "the Biden-Harris administration has got your back, and we're all in on putting workers first."
Su told us about her personal history of advocating for low-wage, immigrant workers, and how that experience has shaped her term has acting labour secretary.
"At the Department of Labor, we know that the global work we do together with all of you to eliminate worker abuse and improve job quality for all, is essential to our mission," she said.
Su said the U.S. government would announce a global labour strategy to continue its work advancing worker rights through diplomacy.
The UNI Congress then turned its attention to the session Rising Together for Health and Safety, moderated by Gerard Dwyer, National Secretary-Treasurer of Australia's SDA. Dwyer set the stage by  outlining the mental health crisis, long working hours, productivity pressures and third-party violence that workers face.
The pandemic was hard on care workers, but their mental health has been long overlooked. Miguel Zubieta, Deputy General Secretary FATSA, talked about how his union is addressing mental health concerns and supporting care workers.
"We unions are saying that mental health issues need to be made visible. We need to encourage our colleagues to talk about them and our delegates to empathize and understand," he said.
From Sweden, Finland and Japan, Congress attendees heard about efforts to stop harassment and violence in commerce. Linda Palmetzhofer, President of Handels in Sweden, talked about her country's legislation on protection of commerce workers from violence and harassment. "The legal right to ban customers is important, but we need a whole workshop with different tools for trade unions and employers," she said.
A similar effort is being pushed currently in Japan, said Tomoko Nagashima Vice President and Chairperson of Commerce Division at UA Zensen. Her union is pushing – on the shop floors and in the halls of government – to end customer harassment and third-party violence in retail.
Erika Kähärä from PAM, Finland, agreed saying, "The customer is not always right. Condemning aggressive or insulting behaviour is not bad customer service. Receiving threats, insults and personal slander is NOT part of anybody's job – we have to stop accepting them as if they were. Workers need to be empowered to protect themselves."
Over work and excessive hours are rampant in the entertainment industry. Matthew Loeb, International President of U.S. union IATSE, discussed his union's innovative contract campaign that fought for – and won – more rest time for workers.
"As the pressures of the industry continue to compound the health and safety risks to entertainment production workers, the unions must push back through global coordination and collective bargaining, holding employers accountable to their primary responsibility of providing a safe workplace," he said.
Peter Hellberg, Vice-President Unionen, Sweden, then moderated the session "Rising Together for Decent Work in the Digital Age." He spoke about the international organizing efforts of workers at Swedish tech company Spotify through UNI, and said, "The international nature of how tech work is organized means that the work of UNI is important to all workers and unions in the tech and games sector because it is UNI that brings the unions together that are supporting workers organizing."
Congress participants heard from different parts of the tech industry.
Alan McAvinney, Organizing Chair of Alphabet Workers' Union, CWA, closed the day with a powerful message on the rise of international solidarity among Alphabet workers. "We know our employers have global strategies. We know we must too."
While Sonia Kgomo, who does content moderation for Facebook in Kenya and is organizing with COWU, could not join us in person, she gave a powerful video intervention about the toll of watching and filtering unspeakable content from social media. She mentioned workers attempting suicide, depression, anxiety and other mental health issues from their jobs, and how a union can offer protection.
Bro. Kwak Chang-Young from the Microsoft Korean Workers' Union excited the audience by talking about his union's campaign at Microsoft and how tech worker organizing is spreading in South Korea. What started with his union has helped ignite action at Google, Amazon Web Services, as well as Twitter, Salesforce.com and Meta.
The focus on digitalization then turned to how technology is being used on work.
Stefanie Nutzenberger, a board member at Germany's ver.di, detailed the breakthrough digitalization agreement at H&M – the first of its kind. Retail workers have a greater say in how new technology is used at the fashion giant.
 SLC CGIL National Secretary Riccardo Saccano told the Congress that his union has curbed the abuses of algorithmic management. "We have achieved a significant outcome by ensuring that professional growth, work shift allocation, and overall daily work organization are not solely reliant on algorithm evaluations. Instead, we have positioned the algorithm as a tool," he said.
Lowell Peterson, Executive Director of the Writers' Guild of America, East, summed it up when he said, "We should control technology, technology should not control us!"
U.S. television and movie writers are striking now for a fair industry in a digital age. One of their main issues is how artificial intelligence can be used to produce content.
The UNI crowd took a solidarity photo with the writers' union, and then headed out to another rally in solidarity with them and actors striking over similar issues with their union SAG-AFTRA.