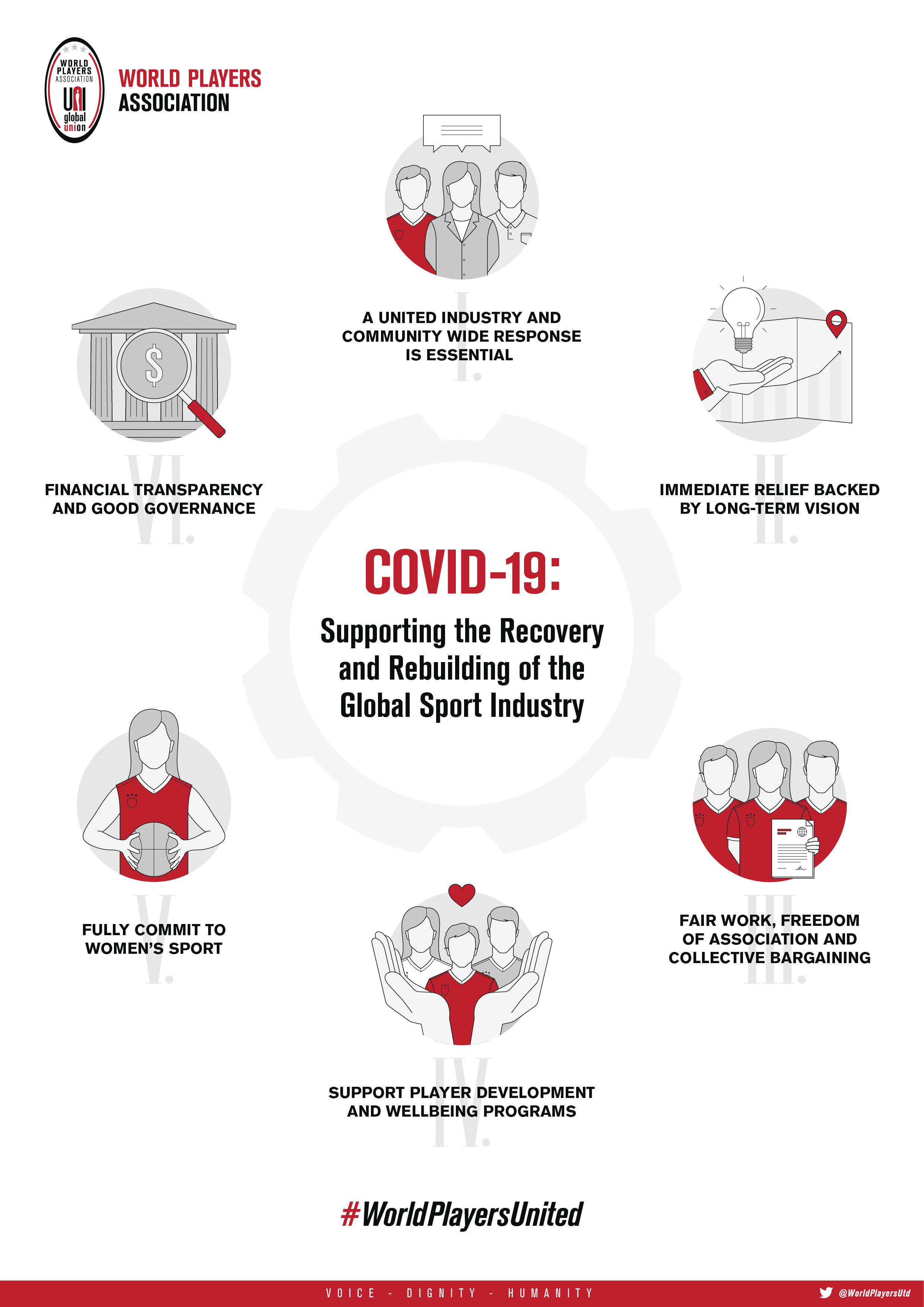 World Players Association sets guiding principles to support the recovery and rebuilding of the global sport industry
(Nyon, Switzerland, 14 October 2020) – The World Players Association today launched six key principles to guide the global sport industry in the herculean task of recovering and rebuilding from the COVID-19 pandemic. The multi-billion-dollar industry – which accounts for up to one percent of global gross domestic product – has been acutely impacted by the crisis due to the widespread restrictions on mass gatherings and the closure of international and domestic borders.
Since being initially shut down in February 2020, the global sport industry has understood that it must lead by example given that COVID-19 is, first and foremost, a public health crisis. Sports bodies, leagues and player associations have worked closely with governments to negotiate incredibly complex health and economic protocols and agreements that have enabled professional leagues of wide-ranging scale to return to play. The pandemic has also revealed underlying vulnerabilities in the economy of professional sport, including low levels of liquidity despite almost three decades of unprecedented growth.
World Players Executive Director Brendan Schwab said:
"While we are still dealing with the short-term impact of the pandemic, the global sport industry can't delay planning for its long term recovery and rebuild. The six principles promote an inclusive and sustainable approach which respects the human rights of all who have been willing to risk their health and compromise their economic interests for the sake of sport. It is now truly time for sport to demonstrate good governance and financial transparency; not merely talk about it."
FIFPRO General Secretary and World Players Vice President Jonas Baer-Hoffman said:
"Because of the fragile situation professional sport is in during the pandemic, making collective agreements are increasingly important to develop fair and sustainable solutions that account for the needs of the people affected by this crisis. We need constructive dialogue between clubs, leagues, players unions, federations – and where relevant, governments – to support our industry and to build a more resilient future."
The six key principles – which have been developed with extensive input from player associations throughout the world including FIFPRO, the Federation of International Cricketers Associations (FICA), International Rugby Players (IRP) and EU Athletes – are:
A united industry and community wide response is essential
Immediate relief backed by long-term vision
Fair work, freedom of association and collective bargaining
Support player development and wellbeing programs
Fully commit to women's sport
Financial transparency and good governance
Players are also determined to address the heavy impact of COVID-19 on women's sport. EU Athletes General Secretary Paulina Tomczyk said:
"Prior to the pandemic, development and support for women's sport was making great progress. We must not lose this momentum and ensure the industry response is used as an opportunity to make long overdue structural changes that allow women players to fully reach their potential."
Key aspects have been emphasised in the principles that employers, governments and other stakeholders, including sport governing bodies, must work to deliver in partnership with players and their associations to ensure a better future for the industry.
The World Players Association, part of UNI Global Union, is the exclusive global voice of organized players and athletes across professional sport. It brings together 85,000 players through more than 100 player associations in over 60 countries. Its role is to ensure that the voice of organized players is heard at the highest levels in the decision-making of international sport.
For more information please contact, Leonie Guguen, Senior Communications Manager, UNI Global Union. Tel: +41 79 137 5436 or Email: leonie.guguen@uniglobalunion.org