The Organizing Forum Asia & Pacific held on 27th June 2023 attracted over 250 participants from around the world, 19 speakers/presenters with interpretation available in 8 languages. This virtual gathering, served as a powerful platform for activists, trade unionists, and worker's rights advocates to come together and discuss crucial issues, share success stories, and explore innovative solutions from the field. The event, organized by UNI Asia Pacific and Friedrich Ebert Stiftung Asia (FES), proved to be an inspiring and inclusive space for fostering global collaboration.
Brother Rajendra Acharya, Regional Secretary, UNI Asia & Pacific used his opening remarks to highlight the challenges faced by the labour movement. 'Digitalisation, technology, unstable employment patterns, and global socio-economic forces are reformatting the nature of work and demanding new strategies for Trade Union organizing.' He went on to say that 'the significant organizing growth in multinational and local campaigns highlights the need for organizing centres in South and Southeast Asia.''
Brother Marc Saxer, Regional Director, FES  Asia said 'This forum goes to the very heart of trade union work: organizing. He went on to comment that 'our campaigns have become stronger and more informed and therefore more successful over the past years as a result of an improved understanding of power resources of local activists, of the regional and global context of our work and the strategies that we have developed.''
Throughout the webinar, attendees were treated to a series of inspiring keynote speeches and engaging panel discussions. Esteemed speakers from various affiliated unions and countries shared their insights and experiences, shedding light on the challenges faced by workers and the strategies/campaigns employed to organize and unite workers.
The keynote speeches were filled with powerful stories of resilience and determination, highlighting the importance of solidarity in achieving workers' rights. Speaker discussions delved into specific organizing campaigns, including notable successes such as the International Safety Accord, Teleperformance, AEON as well and the ongoing work to organize Amazon workers.
The care sector panel discussed organizing wins in Australia, Nepal, India, and the Philippines. While the logistics panel focused on sectoral organizing of logistics delivery workers in Indonesia and Nepal. The panels highlighted the need for organizing low-paid workers regardless of their employment status to achieve decent work in a digital age. Participants gained valuable insights into the strategies and tactics employed in these global and national campaigns.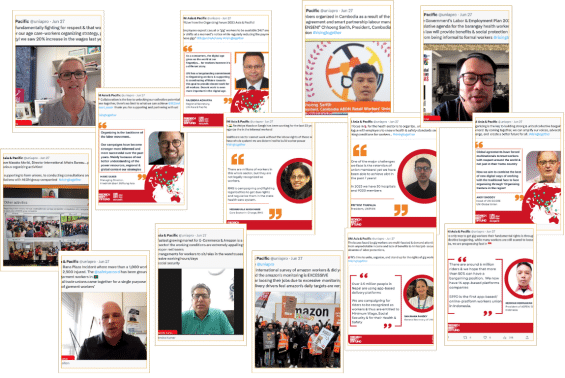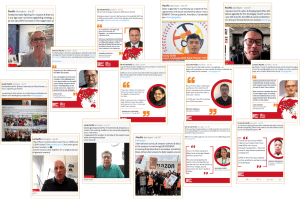 This years Organizing Forum Asia & Pacific leaves a lasting impact and a motivational atmosphere. The learning's garnered during the forum will help push the organizing work in the region forward. We will be back in 2024.
We congratulate all affiliated unions for their participation and for sharing their experiences: ASPEK & SPPD Indonesia, Health Services Union- NSW/ACT/QLD, Rashtriya Mazdoor Sangh (RMS) India, UA ZENSEN, UNI Philippines Liaison Council, UNIPHIN Nepal and UNIAGE Nepal
Stay connected and receive updates on Twitter: @uniapro