Following over 12 months of negotiations, two UNI affiliated unions, the Shop Distributive and Allied Employees Association (SDA) and the Australian Services Union (ASU) have signed a national agreement with Apple. The pact provides retail workers with better wages; improved work classifications; better leave entitlements; more predictable schedules and fairer working hours; as well as higher pay rates for overtime work, weekend work, late night work and work on public holidays.
An overwhelming majority of Apple workers ratified the deal with a "yes" vote in August 2023, and by the Fair Work Commission of Australia, a government workplace tribunal, approved the collective Agreement on Monday. The agreement will come into force on 23 October 2023.
The highlights of the agreement are:
The agreement sets a minimum 5.75 per cent pay increase for 2023, which will be back-dated to 1 July 2023, for all Apple employees covered by the Agreement, with a minimum permanent starting rate of A$29.23 per hour. After this year, workers are guaranteed Fair Work Commission minimum award increases or an annual minimum rise of at least 2 per cent, whichever is higher.
In addition to securing the existing 20 days of annual leave as a permanent right, the agreement also introduced an additional five paid "time away" days per year which can be used for illness, injury, carer's leave and menstruation purposes. Additionally, workers won two paid days of study leave – a first for retail workers – and ten days of gender affirmation leave.
Apple's global 20 days paid family care leave and global ten days paid bereavement leave policy were also incorporated into the agreement and set as permanent rights for Apple workers in Australia. The bereavement leave provides for Aboriginal and Torres Strait Islander peoples to mourn the loss of a family member by following traditional ceremonies and practices.
The agreement provides for more predictable and fairer working hours. Full-time employees are guaranteed a free weekend every two weeks if they so choose, and shifts cannot be changed after they are posted. Part-time employees will have increased guaranteed working hours that must be within their stated availability, and shifts cannot be shorter than 4 hours for all workers.
The agreement secures extra pay either equal to or exceeding the minimum legal rates for work on weekends, public holidays and for most late-night work, which change between 125 per cent and 250 per cent. Eligibility for overtime pay has also been expanded for full-time, part-time, and casual workers who will be paid overtime at a rate of 150 per cent for the first two hours of overtime work and of 200 per cent for any work thereafter.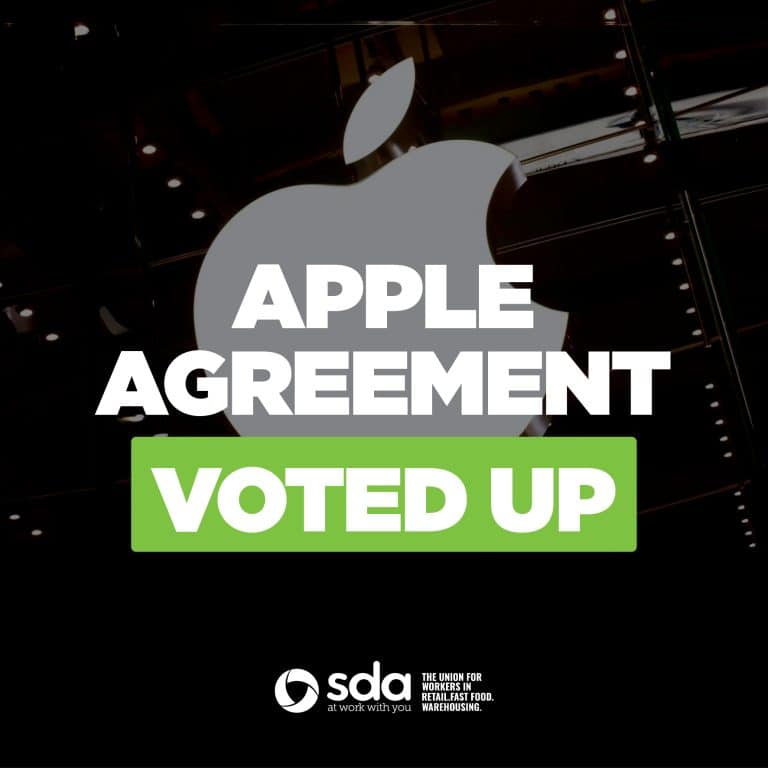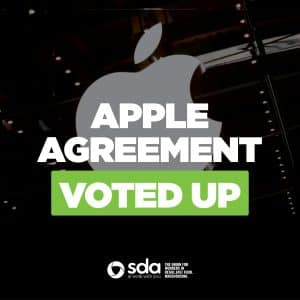 "We congratulate our affiliates in Australia for securing this collective agreement despite many challenges they have faced," said Mathias Bolton, Head of UNI Commerce. "This agreement not only provides Apple retail workers with strong improvements, but it also shows the big difference that collective bargaining makes in overcoming dodgy deals imposed by the employers."
"This is a game changer for Apple employees in Australia – a comprehensive agreement providing strong wages and good conditions is now locked in," said Gerard Dwyer, National Secretary-Treasurer of the SDA and UNI's Global President. This again shows that workers coming together in their unions to prosecute a case for fairness is a powerful force."
Apple retail workers' last company level collective agreement was signed in 2014. In August 2022, Apple informed workers that it wanted to negotiate a new set of conditions. Instead of engaging in fair negotiations with the unions, Apple tried to push a substandard deal.
UNI joined its Australian the SDA and the ASU in opposing the company's weak initial proposal.